ORIGINAL REPORT, 9:18 PM: Another big police/fire response – this time an "automobile rescue" call at Highland Park Way/West Marginal Way SW. This also involved an SPD officer, per Twitter.
9:35 PM: SFD has extricated the officer. Three other people are reported hurt.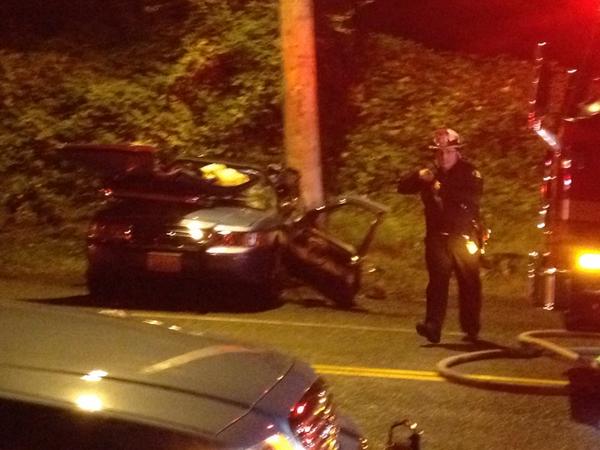 10:09 PM: We have just talked at the scene with SPD night commander Capt. David Proudfoot. He says the car was coming down the hill to a 'fast backup' call in South Park when the officer apparently lost control, hit the pole, ricocheted into a passing car.
4 people taken to the hospital, no major injuries.
11:04 PM: Another update – Seattle Fire now says there were five people in the car with which the SPD officer collided.
both vehicles in view now that @seattlefire E-26 left pic.twitter.com/KMGEYPjqr3

— West Seattle Blog (@westseattleblog) September 2, 2014
The driver, in her 30s, went to the hospital along with three girls, two 8 year olds and a 9 year old. A 1-year-old boy in the car was taken home by his dad, SFD says. Investigators are likely to be on Highland Park Way a while longer; when we left, Seattle City Light was also there checking on the pole and wires.
12:47 AM: A summary is on SPD Blotter; the only update from the briefing at the scene is further clarification of how the two vehicles collided – that the SPD car had gone backward into the pole and was then hit by the other car.