1:02 PM: Thanks to the texter (206-293-6302 any time) who reports Henderson is blocked right now at 21st because of a crash. No medic unit was called out, per the 911 log, so it's likely no one was seriously hurt, but you're advised to avoid that generally busy South Delridge intersection (map) for a while.
2:19 PM: New traffic alerts – crash at 6th/Roxbury, also reported by text (thanks!), and just before we hit publish, the scanner also brought word of one at 14th/Holden. None of these are reported to involve serious injuries, either, but it's just started raining hard, again, so please be extra careful, wherever you're going.
3:32 PM: Now there's trouble on SB I-5 just past the ramp from the eastbound bridge – two cars off the freeway onto the embankment. Traffic backup can be seen on this "live" WSDOT camera: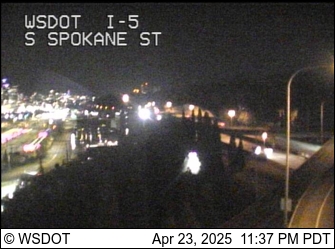 (added) Summary from a State Patrol spokesperson, via Twitter:
There were two collisions at Spokane St. A two vehicle and three vehicle. Roadway is clear! One subject was transported to Harborview.

— Trooper Chris Webb (@wspd2pio) August 31, 2014
5:07 PM: And now an apparent spinout on the Fauntleroy end of the westbound bridge; thanks to Chelle in comments and @fattailed via Twitter. No medic/fire callout, so apparently no serious injuries, if any.