August 30, 2014 at 1:02 pm | In
West Seattle news
,
West Seattle traffic alerts
|
3 Comments
1:02 PM: Thanks to the texter (206-293-6302 any time) who reports Henderson is blocked right now at 21st because of a crash. No medic unit was called out, per the 911 log, so it's likely no one was seriously hurt, but you're advised to avoid that generally busy South Delridge intersection (map) for a while.
2:19 PM: New traffic alerts – crash at 6th/Roxbury, also reported by text (thanks!), and just before we hit publish, the scanner also brought word of one at 14th/Holden. None of these are reported to involve serious injuries, either, but it's just started raining hard, again, so please be extra careful, wherever you're going.
3:32 PM: Now there's trouble on SB I-5 just past the ramp from the eastbound bridge – two cars off the freeway onto the embankment. Traffic backup can be seen on this "live" WSDOT camera: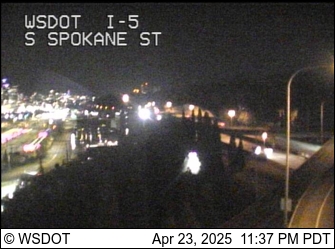 (added) Summary from a State Patrol spokesperson, via Twitter:
There were two collisions at Spokane St. A two vehicle and three vehicle. Roadway is clear! One subject was transported to Harborview.

— Trooper Chris Webb (@wspd2pio) August 31, 2014
5:07 PM: And now an apparent spinout on the Fauntleroy end of the westbound bridge; thanks to Chelle in comments and @fattailed via Twitter. No medic/fire callout, so apparently no serious injuries, if any.
3 Comments
Crash on westbound west Seattle bridge right before walking on logs. The car is facing wrong direction, blocking one lane. Hope everyone is okay, looks pretty bad.

Comment by chelle — 4:56 pm August 30, 2014 #

Thanks. Someone mentioned it on Twitter but not the specific location – no medics called out, though, so I hope that's a good sign.

a good reminder to watch your speed.

Comment by sophista-tiki — 5:31 pm August 30, 2014 #
Sorry, comment time is over.
All contents copyright 2005-2015, A Drink of Water and a Story Interactive. Here's how to contact us.
Header image by Nick Adams. ABSOLUTELY NO WSB PHOTO REUSE WITHOUT SITE OWNERS' PERMISSION.
Entries and comments feeds. ^Top^