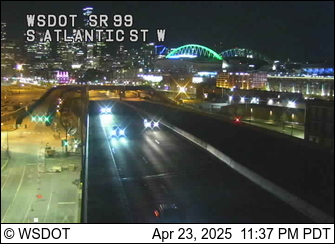 (WS bridge and Highway 99 views; more cams on the WSB Traffic page)
Today is the last day of the rest of the Highway 99 closure, from the Battery Street Tunnel north to Valley Street. See a time lapse of the work in our reminder from last night; see the map in an earlier reminder. To check Metro routes, go here.
26TH/BARTON NOTE, 6:30 AM: A fire response across from Westwood Village is affecting traffic in that area.
6:57 AM: Now there's another fire response, in High Point. Not a big fire but it's on Sylvan Way a block south of Morgan and will likely affect traffic in that area for a while.
5:45 PM NOTE: In case you haven't already seen the separate update, the eastbound bridge offramp to NB 99 is blocked right now because of a spill from a truck – described so far as a fuel spill – that's being cleaned up.