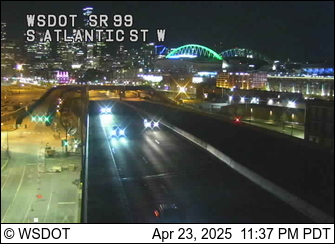 (WS Bridge and Highway 99 views; more cams on the WSB Traffic page)
6:48 AM: Trouble on the bridge – thanks to everyone who's reporting a crash at/near the top, described as blocking the bus lane and part of the lane to the left of it. No injuries.
7:20 AM: Still causing a backup. (Added – screengrab we snagged at the time, for posterity:)
Meanwhile, if you're going to be on the road in SODO at midday today, remember that the Mariners have a day game.
7:29 AM: Thanks for comment updates, including bus rider reporting tow truck at crash scene. (Added – another screengrab for posterity:)
7:59 AM: After almost an hour and a half, the bridge crash has JUST cleared. Just last night, the "one stalled car/crash blocking thousands of commuters" problem was among the questions the West Seattle Transportation Coalition had for Mayor Murray's transportation adviser Andrew Glass Hastings; our story's coming up later (spoiler alert on that point, no clear answer).
8:14 AM: As commenters are pointing out – there's still a residual backup, so if you can wait to leave, that's still good advice. We also were asked if SDOT tweeted about the crash (here's the context for asking) – the first tweet we see was at 7:42 am, an hour after the earliest reports we received.