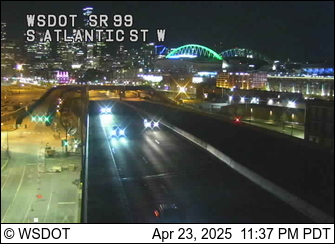 (WS Bridge and Highway 99 views; more cams on the WSB Traffic page)
6:47 AM: Quiet on the routes through/from West Seattle, so far.
Looking ahead to tomorrow – it'll be Bike To Work Day on Friday, with the usual "commute station" for bicyclists beneath the West Seattle Bridge, plus two in White Center; here's the regional map.
Looking ahead to the weekend – remember that Sunday brings the West Seattle 5K (co-sponsored by WSB), closing Alki SW along the full route until about 11 am, and then between 56th and 63rd until 5 pm for the "car-free" Seattle Summer Streets event.
8:33 AM: If you haven't headed out yet and usually take Fauntleroy from Morgan Junction or southward, we've received a report of a potential hazard – somebody standing out in the street in the Fauntleroy/Graham vicinity. En route to check it out.