February 4, 2014 at 4:09 pm | In
Safety
,
Transportation
,
West Seattle news
|
3 Comments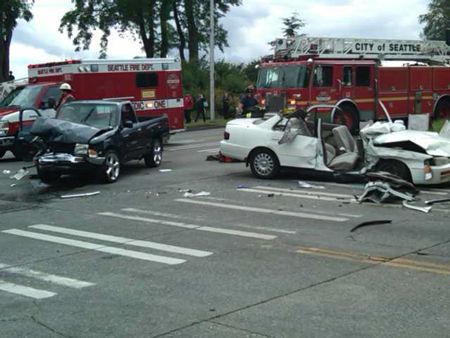 (July 2010 crash at 8th/Roxbury, WSB/White Center Now photo)
Want to see SW Roxbury a whole lot safer than it is now? You'll recall the campaign launched by the Westwood-Roxhill-Arbor Heights Community Council with the support of other area neighborhood advocates. Now, it's announced that the city has scheduled two meetings about the improvements to follow:
*6:30 pm Thursday, February 13th in White Center's Greenbridge neighborhood, 9800 8th SW
*6 pm Wednesday, February 26th, at Roxhill Elementary School, 30th/Roxbury
The city's official project page is here. And you can expect to hear about this at tonight's WWRHAH meeting, 6:15 pm at Southwest Branch Library (meeting preview here).
3 Comments
You can't fix Stupid and people simply drive too fast through there. I had to drive up on the curb to avoid someone who tried to sideswipe me. More lighting at night for speed signs and Warnings for going towards 509. Oh ya how about driver licenses.

Comment by nope — 4:31 pm February 4, 2014 #

Roxbury and 26th is particularly dangerous. I believe a light with a turn arrow is sorely needed, as we have seen numerous accidents. I emailed Seattle and King County to request one last year but was told that the light did not warrant turn arrows in spite of all the accidents over the years.

Comment by Paul — 5:26 pm February 4, 2014 #

as someone who lives near 21st and Roxbury, I can tell you that this road is insane morning noon and night.
I think Roxbury could easily have a road diet aka one lane in each direction with a turn lane in the middle.
Making a left hand turn either north or southbound, you are taking your life in your hands, and your fellow texting/talking West Seattlites. I have seen way too many rear-end accidents on 21st and 22nd to feel safe doing it myself. Sometimes I will go a different way home , just to not make the left onto 21st or if I do, I make sure people behind me see my brake lights and my turn signal BLOCKS before I try it.

Comment by smokeycretin9 — 7:49 pm February 4, 2014 #
Sorry, comment time is over.
All contents copyright 2005-2015, A Drink of Water and a Story Interactive. Here's how to contact us.
Header image by Nick Adams. ABSOLUTELY NO WSB PHOTO REUSE WITHOUT SITE OWNERS' PERMISSION.
Entries and comments feeds. ^Top^