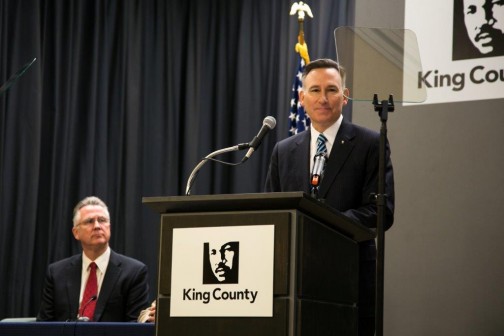 (King County Executive's Office photo, KCE Dow Constantine at podium, County Councilmember Larry Phillips at left)
Climate change and equity-building were the key themes of County Executive Dow Constantine's "State of the County" speech, presented this morning at White Center Heights Elementary School. Here's the full text of his speech, which included, toward the beginning, after he spoke about the site of his speech and the children who learn there:
Decades from now, when these kids are grown and look back, what will they say of us? Of what we did, or failed to do, about the great generational challenges of our time?

About the grotesque inequality of means and opportunity in our society.

About the destruction of our planet.

Confronting climate change, and building equity in our community – addressing the physical world and the people who live in it – these are inescapable, global responsibilities.

Big ambitions for a county government, to be sure. But as an organization, we confront them from a position of strength, based on the foundation of all that we have accomplished these past four years.
For background and context on the two big issues, the county supplied "infographics" – climate change here, inequity here. Other topics included "saving Metro" – with the County Council, who convened at WCH Elementary for the speech, meeting back at its downtown headquarters shortly (1:30 pm) with two Metro-related measures on the ballot – the proposed measure to raise car-tab fees and sales tax to cover the funding the transit system is about to lose, and the first round of cuts that will be made if funding isn't found either from the Legislature or the aforementioned vote (which is expected to be on April 22nd).
ADDED 3:15 PM: Video of the speech, from King County TV: