(Live view from the east-facing WS Bridge camera; see other cameras on the WSB Traffic page)
6:16 PM: Happy Valentine's Day! No problems as this day begins, so here are the West Seattle Bridge and Highway 99 camera views …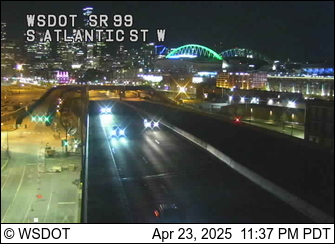 Seattle Public Schools students have a half-day today, out three hours early, the start of the newly shortened mid-winter break; they are also off Friday and Monday.
And remember that this weekend has two major closures – the I-5 Spokane St. Interchange Bridge Repair and Delridge repaving projects. For the former, the eastbound Spokane Street Viaduct will be closed after the 4th Avenue S. ramp, so you can't get to I-5 or Beacon Hill from the eastbound West Seattle Bridge; detours are listed here. On Delridge, the intersection at Trenton will be closed both ways; the detour map is here. And BOTH closures are scheduled to last until TUESDAY morning, since it's a holiday weekend.
1:47 PM UPDATE: The Delridge/Trenton weekend closure is now POSTPONED, probably until the following weekend.