January 29, 2013 at 6:32 pm | In
West Seattle news
,
West Seattle traffic alerts
|
5 Comments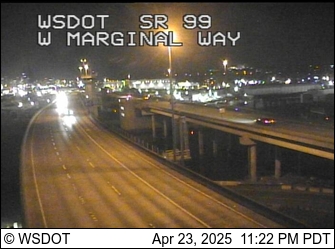 6:32 PM: Thanks to the WSB'er who texted about the 1st Avenue South Bridge having a stuck-open drawspan on the SOUTHBOUND side, with major backups ensuing; WSDOT confirms this and says crews are working to fix it. Refresh this page for the latest "live" view above, showing the drawspan still "up" as we write this.
7:31 PM UPDATE: As of about 10 minutes ago, the southbound span is back to normal, and traffic is moving.
5 Comments
Sorry, comment time is over.
All contents copyright 2005-2015, A Drink of Water and a Story Interactive. Here's how to contact us.
Header image by Nick Adams. ABSOLUTELY NO WSB PHOTO REUSE WITHOUT SITE OWNERS' PERMISSION.
Entries and comments feeds. ^Top^