Two street parties top our highlight list,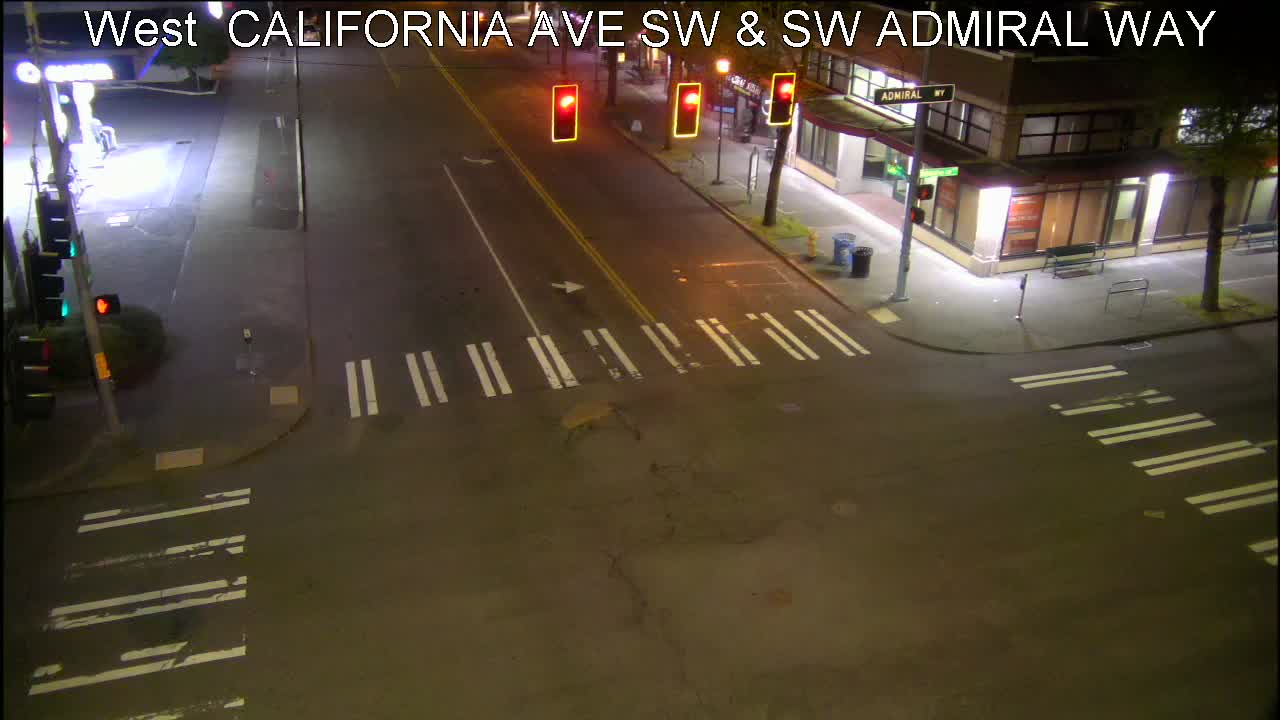 ADMIRAL FUNKTION: That traffic camera shows the south end of what will be the festival zone for the second annual Admiral Funktion, presented by the Admiral Neighborhood Association, with community co-sponsors including WSB. It's happening on California SW between Admiral Way and SW College. See the band lineup here; see the vendor lineup here; get your wristband – good for local venue discounts – at the ANA booth on-site (south end of festival zone). It's all happening 11 am-10 pm.
WHITE CENTER BLOCK PARTY: Also starting at 11 am, on 16th SW between Roxbury and 100th. Live music, live wrestling, vendors, more, as previewed here. This festival is scheduled to continue until midnight.
Here's what else you need to know, mostly from the WSB West Seattle Event Calendar:
FREEWAY CLOSURE REMINDERS: Two major closures all weekend – Highway 518 eastbound, from 509 eastward, which means you can't take that route to the airport or Southcenter (among other destinations); plus Highway 520 both ways between Seattle and Bellevue.
VOYAGING CANOE SAILING BY: Hōkūleʻa will likely be visible from West Seattle's Elliott Bay shores around 8 am, as explained here.
(canceled due to air quality) FREE GROUP RUN: Get your weekend off to a running start with this weekly West Seattle Runner (2743 California SW) group run, All levels welcome. Meet at the shop by 8 am.
YARD/GARAGE SALES: Several are listed for today in the WSB Community Forums.
SOUTH DELRIDGE FARMERS' MARKET: The farmers' market on the grounds of Hope Academy (9421 18th SW) is happening every week, 10 am-2 pm Saturday, prioritizing vendors of color, presented by African Community Housing & Development.
ARTISTS' SECONDS SALE: Go shop cool creations at 3512 SW Charlestown, 10 am-2 pm.
MORNING MUSIC: 10:30 am-noon at C & P Coffee (5612 California SW; WSB sponsor), Marco de Carvalho and Friends perform. Learn about Marco's music here.
FREE WRITING GROUP: 10:30 am in West Seattle, registration required – see full details in our calendar listing.
FAMILY READING TIME: Every Saturday at 11 am at Paper Boat Booksellers (6040 California SW).
BAGELS AND PIZZA AT THE P-PATCH: The Barton Street P-Patch Gardeners welcome you for two tasty rounds today – bagels, 11 am-1:30 pm; pizza, 4-6:30 pm, and live music with Gary Benson starting at 5 pm.
SATURDAY COOKOUTS: Highland Park Corner Store is grilling, 11 am-2 pm on Saturdays through September. (7789 Highland Park Way SW)
50TH REUNION: West Seattle High School's Class of 1973 is gathering today, 11 am-3 pm at Salty's on Alki (1936 Harbor SW; WSB sponsor). If you're in the class and haven't heard about it until now – all the info's here.
SPRAYPARK OPEN: Highland Park Spraypark is open daily (through Labor Day), 11 am-8 pm. (1100 SW Cloverdale)
COLMAN POOL OPEN: Just one and a half more weeks to swim at the city-run outdoor pool on the shore at Lincoln Park (8011 Fauntleroy Way SW), open noon-7 pm (session schedule here).
WADING POOL: Last one open in West Seattle is Lincoln Park (8011 Fauntleroy Way SW), 12-7 pm, in the upper park near the north play area, daily through Labor Day.
VIETNAMESE CULTURAL CENTER: The center is open to visitors noon-3 pm, as explained here. (2234 SW Orchard)
LOG HOUSE MUSEUM: See what's new at the home of West Seattle's history – visit the Log House Museum (61st/Stevens) 12-4 pm. P.S. Here's a message from the museum:
Neighbors and visitors may notice a few changes at the Log House Museum. The Southwest Seattle Historical Society is in the process of updating its signage. If you notice a missing sign or panel, please know the museum is aware! Any questions about the Historical Society can be directed to museum@loghousemuseum.org or by calling 206.350.0999.
VISCON CELLARS: 1-6 pm, visit the tasting room at Viscon Cellars (WSB sponsor) – offering wine by the glass or bottle. Learn about Viscon wines here! (5910 California SW)
NORTHWEST WINE ACADEMY: 1-6 pm, with student-produced wines available. North end of South Seattle College (WSB sponsor) campus. (6000 16th SW)
SIGNING AT EASY STREET RECORDS: 2 pm, meet Budos Band in celebration of their new EP. (4559 California SW)
WEST SEATTLE EAGLES MEMBERSHIP DRIVE & MAUI DINNER: Two reasons to visit the West Seattle Eagles' aerie in The Junction today/tonight – starting at 2 pm, it's a membership-drive day, and they're happy to talk with anyone interested in joining the organization of "People Helping People." Example of their mission – a dinner tonight raising money for Maui fire relief. More info in our calendar listing, (4462 California SW)
WEST SEATTLE ROPER ROMP: Pub crawl paying homage to TV's "Mrs. Roper," starting at 5:30 pm – times and stops are in our calendar listing.
(Friday sunset, photographed from Lincoln Park by Tom Trulin)
LIVE AT C & P COFFEE: 7 pm-9 pm, Cyd Smith performs at C & P Coffee (5612 California SW; WSB sponsor). No cover, all ages.
TERRY MUTTER ALBUM RELEASE: 7 pm show at Kenyon Hall (7904 35th SW), with special guest Carmen Ficarra. Ticket reservations here.
WEST END GIRLS: West Seattle's monthly drag extravaganza at The Skylark (3803 Delridge Way SW), doors 7 pm, show 8 pm, $20.
OUT AT THE BOX: 9:30 pm drag show at Box Bar (5401 California SW), no cover.
Planning a concert, open house, show, sale, event, meeting, seminar, reading, field trip, fundraiser, class, game, or ? Get it on our calendar! Please email info to westseattleblog@gmail.com – thank you!