(Added: WSB photos)
12:01 PM: Thanks for the tip. The Fauntleroy ferry dock is full and the offloading/loading of M/V Kittitas is delayed because of a problem with the apron, according to what we're told at the dock. Terminal workers tell us it's being worked on. Updates to come.
12:05 PM: To be more specific, we're told it's a power problem with the apron. It's just been announced at the dock that an electrician has arrived but they don't have an ETA for how soon this will be fixed.
12:16 PM: The Kittitas has left Fauntleroy headed back to Vashon since there's no ETA, and cars waiting at Fauntleroy are being allowed to turn around and leave the dock.
12:21 PM: WSF has finally officially issued a bulletin about this, saying only, "The Fauntleroy Terminal in west Seattle is out of service until further notice due to necessary maintenance."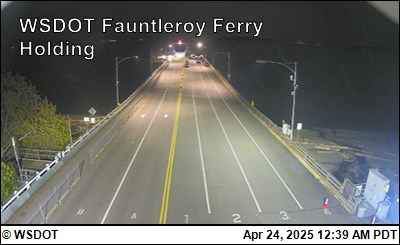 (Latest image from WSF camera at dock)
1:19 PM: The empty Kittitas has returned to wait at Fauntleroy. Meantime, WSF is detouring boats to downtown: "Seattle-bound traffic from Vashon or Southworth will be diverted to Pier 52 to off-load. But traffic bound for Vashon will not be loaded at Pier 52."
2 PM: The Kittitas has left again, apparently to be put into service on the diverted runs that will head from Vashon/Southworth to downtown. No updates on repair progress.
2:40 PM: WSF says repairs were "successful" and the Fauntleroy dock is in service again:
Operations out of the Fauntleroy Ferry Terminal have resumed following successful repairs to the terminal bridge. Though the route will return to service, customers should anticipate longer than usual waits due to increased traffic. Boats are still attempting to move as much traffic and get back into position as quickly as possible …
Though it's not mentioned in that update, Vessel Watch showed a third boat, M/V Issaquah, was summoned into service, at least temporarily.
2:53 PM: The King County Water Taxi is adding a run from downtown to Vashon at 3:30 pm to help with the backlog.