(WSB photos unless otherwise credited)
6:30 PM: If it's on the Easy Street marquee, it's happening – and the heart of The Junction is now indeed the hub of activity to get ready for West Seattle Summer Fest, first one since 2019. So people are here walking in the now-closed streets. There's music too:
Naby Camera at KeyBank Plaza for The Art of Music pic.twitter.com/EHrOOBHFMv

— West Seattle Blog (@westseattleblog) July 15, 2022
Naby Camera is playing until 7:40 pm at KeyBank Plaza (California/Alaska, SW corner) as part of The Art of Music, complementing tonight's West Seattle Art Walk. More on the art in a moment. First – look for orcas on the west side of California, midblock between Alaska and Edmunds:
That's where you'll find Donna Sandstrom from The Whale Trail tonight and all weekend – kids can get a scavenger-hunt card to follow The Whale Trail all around The Junction through the festival (explained here) in celebration of Springer's rescue. (FRIDAY UPDATE: Come get maps at the Info Booth Fri-Sun.) Back to the Art Walk – one of the places you can visit in The Junction is Click! Design That Fits (4540 California SW; WSB sponsor), having a group show with store-alum artists tonight:
(Read about the Click! show here.) More from the Art Walk – venue list/previews here – and festival preps shortly.
Reminder, California SW is now closed between Genesee and Edmunds (with Oregon left open to through traffic) and SW Alaska is closed between 44th and 42nd for Summer Fest setup (here's bus-reroute info) – here's a live SDOT cam: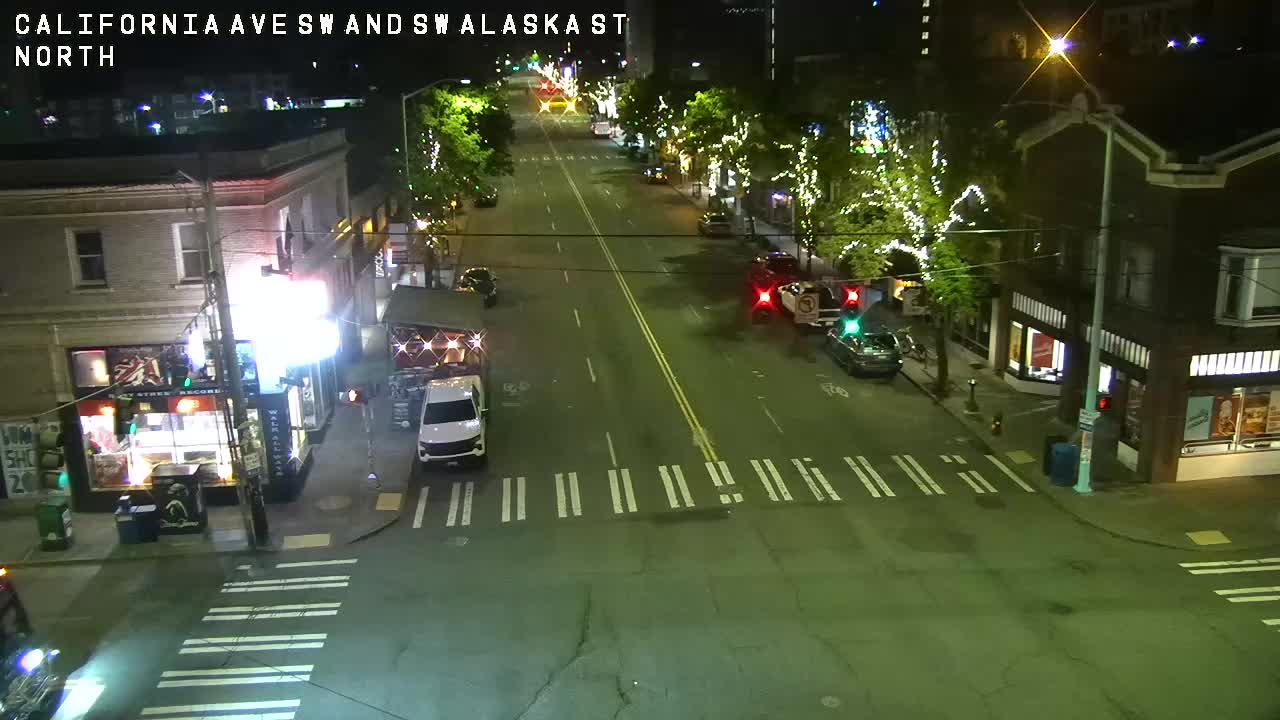 The festival starts at 1 pm Friday.
7:20 PM: At John L. Scott Real Estqte on the west side of California just north of Oregon, one amazing show decks the walls throughout the office:
Bob Willoughby photographed many Hollywood stars in the classic era's heyday. See them tonight, with his son Christopher Willoughby and widow Dorothy there to answer questions, until about 9 pm.
ADDED 8:32 PM: More artists we stopped in to see – Sonya Rupnick at Fogue Gallery (4130 California SW; WSB sponsor):
Dan Rosen at Verity Credit Union (4505 California SW; WSB sponsor):
Many artists' work is displayed at the businesses all month long, so if you didn't get out tonight, check out the venues some other time. Meantime, we have one more Art of Music scene – harpist Alyvia Miller played at Welcome Road Winery in South Admiral (thanks to linda McKelvey for the photo):
During Summer Fest, main-stage music is scheduled 3 pm-10 pm Friday, noon-10 pm Saturday – and stage setup was the first thing to happen as street closures began this afternoon:
See the music schedule here. We'll see you at Summer Fest – starting at 1 pm Friday!