8:22 AM: We're getting multiple reports that an incoming ferry has hit the Fauntleroy dock. … You can see the damage on the M/V Cathlamet in this photo by Bill Wellington:
No word yet on injuries – Seattle Fire and Police have been dispatched.
8:33 AM: Here's another view, from Angela Summerfield, one of the people who told us the impact was very loud.
She says the Cathlamet went into reverse and pulled away after the initial impact. It then returned to offload and our crew says it's now at the dock – just sent this photo:
No indication of any serious injuries – our crew says SFD is getting ready to depart – and we're hearing via the scanner that only "minor injuries" are reported, but the dock is closed TFN. … WSF calls it a "hard landing … causing significant damage to the vessel and an offshore dolphin at the terminal. … Fauntleroy service suspended until further notice while assessment is done."
8:56 AM: Above photo is a closer look at the damage. Some vehicles on board appear to have been damaged too. The State Patrol has sent multiple units (the ferry system is a state highway, so it's their jurisdiction). A U.S. Coast Guard vessel is in view along the dock too. … Among those on the Cathlamet when it happened was Anne Higuera of Ventana Construction (WSB sponsor), who tells us that right after the impact, "The crew on the boat was really calm and professional." … She tells us there was no warning that the impact was imminent. She also says the ferry was not fully loaded with cars – this time of the morning from Vashon usually isn't full.
9:20 AM: We're awaiting a public-information officer at the dock. Meantime, Mark Dale sent a view of the damaged boat from the hillside above, before it went back in to offload post-impact:
Right now, the dock remains closed and the damaged boat is still there. A State Patrol spokesperson tells us one person who was on board is coming back for a medical evaluation but they don't believe the injury is serious. … Some backstory: WSF talked at its community meetings last month about its vessel shortage, with no new builds expected to come online before 2027. The boat damaged today, M/V Cathlamet, is 41 years old and has had trouble in recent years, including what we reported as a "smoky scare" one year ago. … WSP just told us the dock is expected to be closed for at least the rest of today.
9:52 AM: WSF tells us they're expecting to have a media briefing in a few hours. Here's the official WSF alert on how service is affected:
The Issaquah will be the only boat on the route for now and will continue service between Southworth and Vashon. The boat will not operate on its regular schedule and just load vehicles before departing to its next destination to move as much traffic as possible.

There will be no midday tie up of the Point Defiance/Tahlequah route to assist with service during this time. Therefore, there will be an additional 12:35 p.m. sailing from Point Defiance, and a 1 p.m. sailing from Tahlequah.
(That's the route between the south end of Vashon and Tacoma.)
10:09 AM: Some asked in comments about the WSF explanation that an "offshore dolphin" was damaged. Just in via comments, this photo by Pam Kirkpatrick shows the damage:
WSF tweeted this photo of the damage from onboard:
10:38 AM: If you're wondering about the helicopter over the deck, it's the TV stations' shared helicopter. … Meantime, among those commenting below is the superintendent of the Vashon Island School District, which has a notable amount of students who commute from West Seattle. They're monitoring the situation. Again, the only ways to get to/from Vashon right now are via either Southworth or Tahlequah (clarification: with vehicles; the Water Taxi to downtown runs weekday during commute times) . … Update from the Coast Guard: Two cars "remain stuck" aboard the ferry. The USCG has tweeted a few photos including this:
11:36 AM: Updates from WSF – they plan a media briefing at 2:30 pm. In the meantime, they say that if the Cathlamet can be safely moved, they'll bring in the Kitsap and resume two-boat service on the route. No timeline on that yet – both the boat and the damaged "offshore terminal structure" are still being evaluated.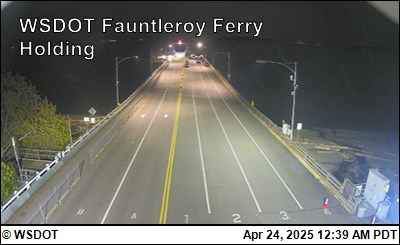 12:20 PM: WSF says the dock will be evaluated once the vessel is moved – so no decisions on service restoration until then.
1:15 PM: Two video clips from readers, right after the ferry hit the dolphin:
That's Anne Higuera's video showing how ferry crew calmly went to check on people in vehicles close to the front of the deck. Below is Diane Berge's video showing Cathlamet backing away after hitting the dolphin:
2:08 PM: The Vashon Island Water Taxi will add a round trip tonight – details here.
2:33 PM: We have a crew at the WSF media briefing.
Meantime, WSF has tweeted that "people with monthly or multi-ride vehicle/passenger passes for Vashon & #outhworth will be allowed to use their pass at Colman Dock in #Seattle for today only to help facilitate their travel."
2:59 PM: The briefing is over. We'll upload the entire video as soon as our crew's back. A few quick highlights: Too soon to tell whether human error or mechanical problem. Crew is being interviewed and tested. They will try to move the Cathlamet within the next few hours and if that works, they'll go ahead with plan to use M/V Kitsap on the run.
3:07 PM: Actually – Cathlamet just pulled out.
Kitsap is on its way – currently in Rich Passage east of Bremerton, per WSF VesselWatch.
3:20 PM: VesselWatch shows M/V Issaquah now arriving at Fauntleroy. … WSF says the dock is going back into service. Cathlamet is headed for WSF's Eagle Harbor facility for repairs (after what WSF says will be "crew-move stops at Vashon and Southworth").
4:08 PM: Here's our video of the briefing. (Our apologies for the background-audio problem; Sterling's audio is clearer in this KING upload.) Speaking along with WSF spokesperson Ian Sterling were WSDOT assistant secretary for ferries Patty Rubstello and former ferries boss, now deputy WSDOT secretary, Amy Scarton.
WSF says it has resumed service "sailing all stops with no set schedule" for now, but will switch at some point tonight to the "posted two-boat schedule." To summarize the briefing – they didn't have many answers. The captain is a "longtime" WSF employee, said Sterling, noting that becoming a captain requires about 20 years experience. He did not know how many vehicles were on board when this happened (it wasn't a full load, as you can see in Anne Higuera's video featured above). The vessel will likely take months to repair. The USCG will lead the investigation, with the National Transportation Safety Board "working alongside" them. One damaged vehicle remained on the boat, under a crumpled section of the ferry's "pickle fork," but several others were damaged, Sterling said. … One more note: If you still have questions, a WSF rep is scheduled to join tonight's West Seattle Transportation Coalition meeting to talk about this, 6:30 pm online (link and call-in number are in our calendar listing).
5:08 PM: Photo added above is from Anne Higuera, showing the damaged Cathlamet now tied up at Vashon. (As noted above, she was on board when it hit the Fauntleroy dolphin this morning.)
6:30 PM: As noted in comments, Cathlamet is now at Eagle Harbor.