1:02 PM: Thanks for the tips. More than 3,200 customers lost power about 10 minutes ago in east West Seattle and South Park. No word yet on the cause.
1:06 PM: We're just hearing about a tree down on wires along Highland Park Way – so that may be the cause. SFD and Seattle City Light are being dispatched. The tree also is reported to be blocking two lanes of traffic.
1:18 PM: Thanks to the reader who texted the pic of the tree. Police have told dispatch they're blocking southbound lanes on Highland Park Way because of it – they're also reporting more tree trouble as part of the hill slides. Readers say the outage has taken out the HP Way/West Marginal light too. Also, another reader tells us Sanislo Elementary is being dismissed early because of the outage.
2:15 PM: Added above, another view – sent by Stephanie – of the tree trouble on the Highland Park Way hill. Thanks for all the updates in comments, especially on the major lights that are out too. Also, traffic advice from readers: Avoid HP Way/Marginal entirely, with both the hill blocked and the signal out; also, a request: "Please put out the word to folks not to try to cut though on Austin St to get down Highland Park Way. You can't get through."
3 PM: Metro also has noted that Route 131 is routed off HP Way right now because of the blockage.
3:27 PM: SCL has reconnected the South Park side of the outage. 1,200+ customers still out on this side of the river. Here's the area still out:
3:48 PM: And thanks to Arinna for this closer view of the fallen tree:
That photo is from just minutes ago, Arinna (who lives nearby) says, while also confirming that the hill is blocked to traffic both ways.
3:56 PM: Hundreds more just got their power back … total number still out is down to 960.
4:24 PM: And another hundred-plus are back on – down to 834 out. Reminder, Highland Park Way hill is still closed.
6:39 PM: SDOT says its crews are still working to clear the tree, as SCL works to restore power. The HP Way hill remains closed – here's the nearest traffic camera (currently showing the barricades across the road at the bottom of the hill):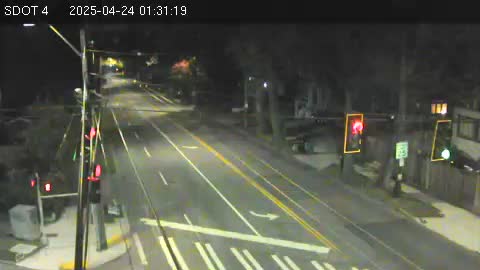 7:57 PM: Remaining power outage nearly halved – 441 customers now out.
8:14 PM: And now down to 77 customers. Craig, whose power was restored a short time ago, sent this photo of work continuing at the scene:
9:20 PM: Now everyone's back on except for two customers. Also of note, the cause listed on the map – usually just a word or two – now says "landslide."
11:59 PM: The Highland Park Way hill is still blocked off, 11 hours after the tree fell.
2:08 AM: As of a few minutes ago, the barricades were still up; now the camera at West Marginal/HP Way has just gone out of service.
8 AM SATURDAY: Camera's back and shows the hill still blocked off.
10:40 AM: A reader talked with an SDOT worker in the area a short time ago and was told the road should reopen "in about 2 hours."
2:32 PM: That obviously didn't happen. We've since heard directly from SDOT and are publishing a followup shortly.