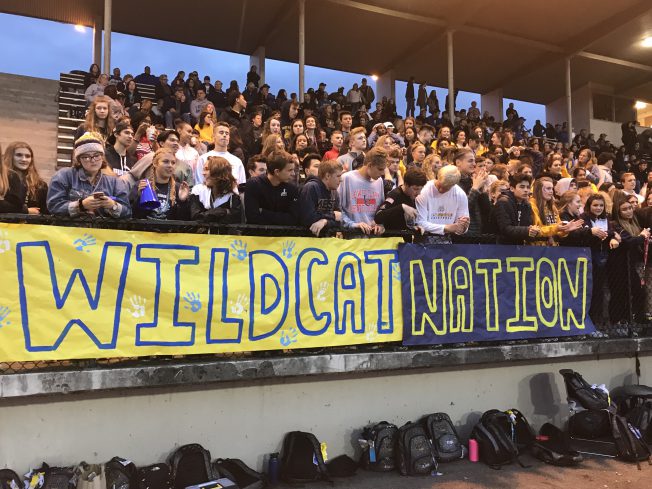 9:52 PM: Not too much for the Wildcat Nation to cheer about tonight at Southwest Athletic Complex, where the West Seattle High School football home opener just ended in a 46-16 loss to North Creek. We'll add toplines and photos later tonight. Next Friday at 7, the Wildcats play cross-town rivals Chief Sealth International High School, also at SWAC, where the Seahawks face Black Hills tomorrow night.
ADDED SATURDAY: Sorry for the delay!
WSHS #6, Colin Roman, had both TDs. We caught the first one on video for Twitter.
First West Seattle TD, with 1:43 left in 1st half, extra-pt kick good, now 18-7 North Creek. pic.twitter.com/YljGjxaWTg

— West Seattle Blog (@westseattleblog) September 8, 2018
As shown there and below, #2, Cyrus Storlie, had a busy night of throwing.
But North Creek had a ground game as well as an air game, and that made the difference, though the WSHS defense did a good job keeping them in check in the first quarter – the Jaguars' first TD wasn't until the quarter had just over 2 minutes left to go.
New uniforms for the players, by the way, as well as a new head coach – this was Jeff Scott's home debut:
Rain began to fall in the second quarter and continued fairly steadily for a while. Quarter-by-quarter scores: 6-0 NC after the first, 18-7 NC at halftime, 34-16 NC after the third.