(WSB photo added 11:22 pm)
10:48 PM: Big Seattle Fire hazmat response at Chelan/Spokane, just west of the low bridge, for what SFD says is an overturned tanker truck leaking gasoline. Traffic is being diverted at the north end of Delridge. The Delridge exit from the bridge is being blocked off, per scanner. More to come.
10:54 PM: Per scanner, SFD believes the tanker is leaking from multiple spots. They're trying to get into position to get foam on the leaking fuel. Stay well clear of the area.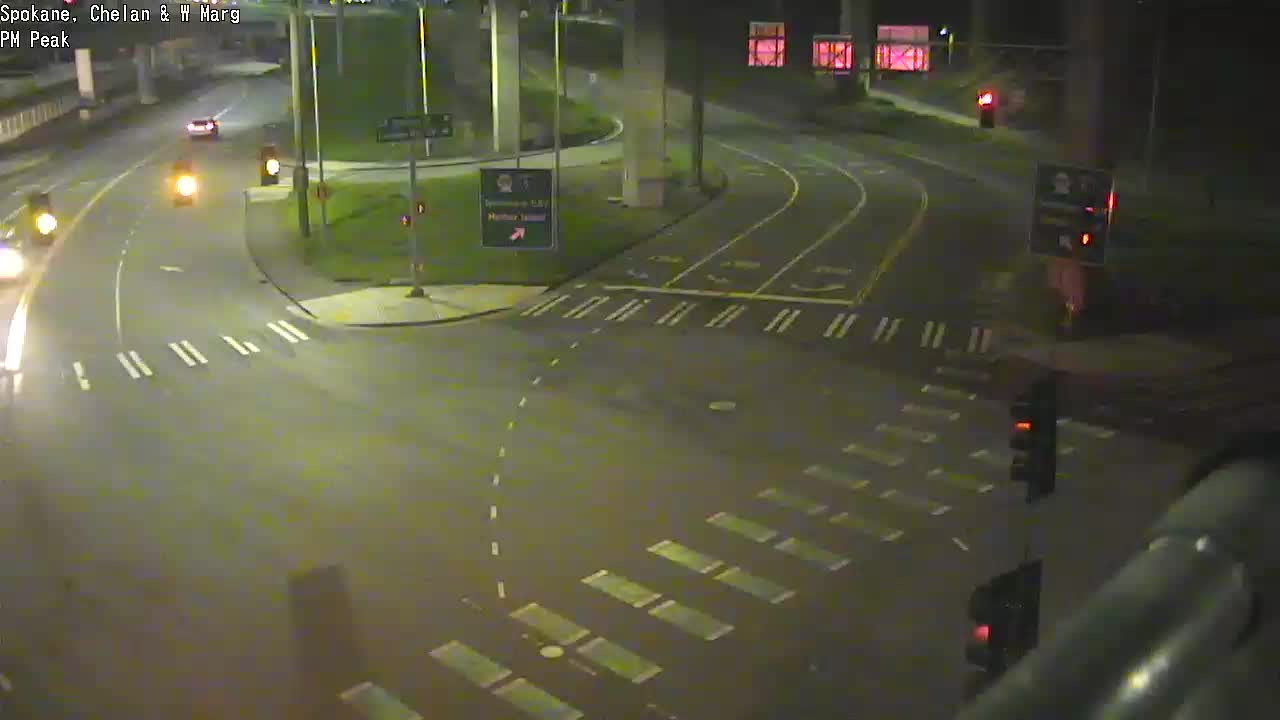 Traffic cameras show the west end of the bridge is blocked. Per SFD, the tanker driver got out OK.
11:22 PM: They're evacuating the Chelan Café/bar (Ebb Tide Room). Also, per scanner (we've just arrived at the scene so will have some firsthand info soon), they're setting up a "unified command" including SDOT as well as SFD and SPD. SFD adds via Twitter that Seattle Public Utilities and the Coast Guard have been notified, and that it will take several hours to offload the tanker.
(Photo by Brandon Smith)
11:54 PM: More SFD resources have arrived, and there are also radio communications about SFD and USCG boats checking the Duwamish for any sign of fuel from this. We're now on the west side of the crash area; SFD was sending a public-information officer to gather info for us (and any other media on scene).
12:05 AM: Another tanker has arrived so this one's fuel can be offloaded.
12:31 AM: Here's SFD foaming the scene early on – thanks to Doug for tweeting the video:
Fire response seems to have it under control @SeattleFire @westseattleblog pic.twitter.com/ItRw5BmwBw

— Doug Mackar (@DMackar) August 2, 2018
12:53 AM: SFD spokesperson Hilton Almond has briefed us at nearby Fire Station 36. He says the tanker is still leaking – they believe the double-trailer truck was carrying about 5,000 gallons.
A fireboat is on the Duwamish looking for signs of spillage. SPU has public-information officer Eric Autry at the scene too and says they'll have a boat out in the morning. We recorded the briefing on video and will add that when it's uploaded. (Update: Added)
The timeline for offloading the fuel is still described as "several hours" so hard to say how this will affect the morning commute but we would speculate it's likely to – the low bridge is currently blocked off both ways as is much of Spokane under the bridge and the north end of Delridge Way.
Almond explained that firefighters have to keep re-applying the foam to suppress vapor from the leaking fuel.
1:23 AM: We're back at HQ for a while and have heard via scanner that the Coast Guard has vessels out at the mouth of the Duwamish restricting maritime traffic while this remains unsettled.
2:32 AM: SDOT camera shows the offloading hasn't started yet. Radio communication indicates they're starting soon and expect it to take at least a few hours.
4:58 AM: Still emptying the truck.
5:20 AM: Since the main bike accesses to the low bridge are blocked, a shuttle is planned, though no details yet. (update) Metro says the bike shuttle is running from the northbound SW Avalon Way stop just north of SW Charlestown – Luna Park area.
6 AM: The Delridge ramp to the eastbound high bridge IS open – we just went over to verify. (Added below: 6:09 am screengrab of SDOT cam at scene)
6:37 AM: But bike riders attempting to get to the low bridge from the north end of Delridge will be turned away – we are in the area and just saw it happen to 2 more. At the crash scene, the tanker that was offloading fuel has just left (it passed us southbound on Delridge). Next: Uprighting and towing the crashed truck, and cleanup. … Also note that West Marginal is blocked north of SW Marginal Place until this is cleared.
7:30 AM: The tipped section of the tanker is still being uprighted. (Added above, a few minutes later – SDOT cam now shows two tow rigs involved)
8:05 AM: The tanker is now upright, after 9+ hours.
Next – towing and cleanup.
8:23 AM: Police have reopened the Delridge offramp from the high bridge.
9:36 AM: Not fully reopened yet otherwise but Metro says "most" buses have returned to their regular routes. The bike shuttle is still running.
10:21 AM: After almost 12 hours, police have just announced via radio communication that everything is reopening.
2:25 PM: We're working on a separate followup about environmental ramifications and cleanup – will link here when that's up. Meantime we asked police about the investigation. Too soon to say if any citations will ensue as this is being handled by the Traffic Collision Investigation Squad; SPD says the early indication is that the trailer may have gone sideways because of a "sharp right turn."