In Crime Watch tonight:
DOUBLE-MURDER SUSPECT CHARGED: We reported Saturday night on the arrest of 26-year-old Merle Buchanan, more than a month after he was identified as the suspect in the January 6th deadly double shooting in downtown White Center.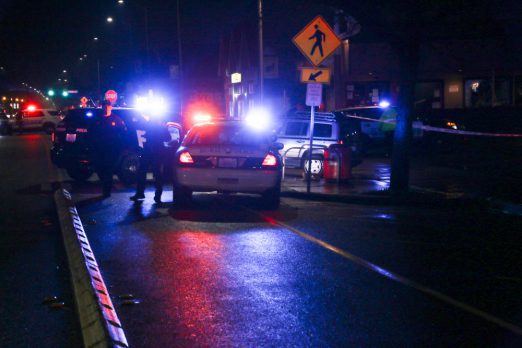 (White Center Now/WSB photo, January 6th)
Today, the King County Prosecuting Attorney's Office charged Buchanan with two counts of second-degree murder and one count of second-degree unlawful firearm possession. Charging documents say the victims, Paul Tapia and Jose Garcia, were co-workers who arrived together at the Taradise Café just after midnight. Buchanan, a White Center resident, is described as a semi-regular who had been there about an hour by then. Surveillance video showed him talking with Tapia outside the bar, by his car, with Garcia nearby, and then showed the shooting around 1 am. The charging documents do not suggest a motive. They do say Buchanan was identified via a trail that started with a retail receipt found at the scene. He remains in jail in lieu of $1.1 million bail, including $100,000 related to a domestic-violence protection order violation charge involving an incident with a former girlfriend hours before the shootings.
Also in Crime Watch, two reader reports:
BIKES STOLEN FROM GARAGE: Leah reports: "Last night, the City Watch apartment underground parking garage was vandalized and several bikes were stolen, including my women's Specialized and my partner's Huffy mountain bike. The person cut through the fence, and cut bike locks." The building is in The Junction, at 4744 41st SW. We've asked for the police-report number and will add it when we get it.
STOLEN SILVER TRAVEL TRAILER: Posted in the WSB Forums by MorningStar, a "1950 Silver Streak Clipper 22' Aluminum travel trailer, attached to a white Ford van" was stolen from 21st SW on Puget Ridge February 25th or 26th. This is an Airstream prototype, MS explains, so should be recognizable, and had plastic over the windows because it was undergoing renovation. Plate TLE1941. Call 911 if you see it.
Something for Crime Watch? E-mail editor@westseattleblog.com – or, if it's happening now, once you've called 911, text/call us at 206-293-6302, any time.