(DIRECT INFOLINKS: Today's lineups are here … Bus reroutes: C Line here, Route 22 here, Route 37 here, Route 50 here, Route 55 here, Route 57 here, Route 128 here, Route 773 here, )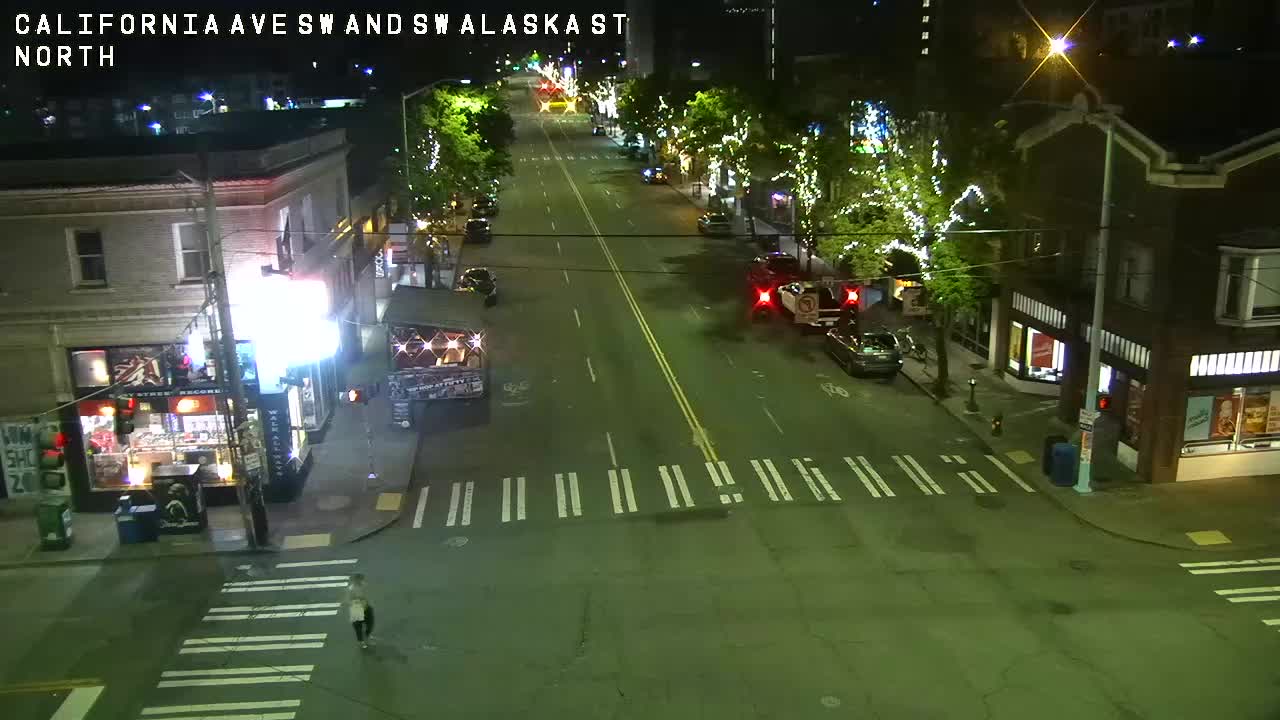 ("Live" image of festival zone, courtesy of SDOT info-map camera – refresh page for newest image)
11:08 AM: At the bottom of the image above, that's the Info Booth/Community Tent at California/Alaska, where we're stationed, covering West Seattle Summer Fest again this year. The festival's in its second hour – shopping, noshing, riding, all under way already. The weather's perfect. Music (here's the lineup) starts at 3:30 pm. We'll be showing the sights and the highlights as the day goes by – more to come.
11:41 AM: One trick of maximizing your festival visit is knowing where to look for everything. This year the Sustainable West Seattle GreenLife Expo is in Junction Plaza Park (42nd SW/SW Alaska) – a bit obscured by food booths, so don't pass it by! Behind the solar panels, in our photo:
Here's the schedule of demonstrations and events – you'll find many cool community groups there too. Meantime, at one of the food booths on that side of SW Alaska, the most unusual offering we've spotted so far:
Another place you'll want to look past the main Summer Fest routes on California and Alaska – the Kids Zone (presented by longtime WSB sponsor, the West Seattle YMCA). Activities and inflatables are under the Wells Fargo drive-thru and in the lot beyond, as well as some on Alaska by 44th .
You'll find the ride-ticket booth on the south side of Alaska by the entrance to the parking lot behind KeyBank – and note that the rides are open a little longer than other vendors on Friday and Saturday night; prices are here.
Back to the food – many year-round Junction eateries do something special at Summer Fest. Like Husky Deli, whose Jack Miller was all smiles already, first thing this morning:
Lots of outdoor seating, too, throughout The Junction, special for Summer Fest. Meantime, between year-round merchants and festival-only booths, about 200 places to shop and visit – including this one that caught our (admittedly geeky) eye:
By the way, if you're here or in The Junction in general, that's just a TV helicopter buzzing the festival right now.
12:32 PM: A few government agencies are here too. Including WSDOT, on the west side of California south of Alaska, answering questions about the tunnel – with an exhibit featuring this:
Meantime, festival activities are starting to intensify. Coming up at 1 pm on the stage at GreenLife in Junction Plaza Park – an opening ceremony with the Duwamish Tribe.
1:35 PM: Here's a short clip of Ken Workman, Chief Si'ahl's great-great-great-great grandson, welcoming the festival:
Some video from the welcome. pic.twitter.com/68olyLV2UZ

— West Seattle Blog (@westseattleblog) July 14, 2017
On that same stage, Orca Dance: Illuminatos is scheduled at 4 pm. The ongoing displays at GreenLife include these guys:
The crowd is getting bigger as the afternoon goes on – and a lot of people are stopping by to ask about the band schedule – we do have the Summer Fest programs here, free, while they last, along with various other informational items you might want to pick up, such as the cards with the West Seattle Outdoor Movies schedule (first movie "Rogue One," one week from tomorrow, at the Y "festival street," 36th/Snoqualmie in The Triangle).
3 PM: We'll be launching report #2 once the mainstage music gets going later this hour – we're taking a break to publish a few non-festival news stories in the meantime. By the way, the stage/music isn't the only reason to head north of Oregon (where you have to wait for a crossing signal, since it remains open to east-west travel):
Art is happening just north of Oregon – at and around the Art Dive. Our photo shows what's happening just outside Red Cup Espresso – where there's not only an artist at work, but also DJing, and a food truck. More Summer Fest coverage to come! Vendors are open until at least 6, food and rides until 8-ish, beer garden and music until 11 – come see and hear what's happening.