(WSB photo, June 5th, showing police and other emergency vehicles along Highway 509 south of West Seattle)
A second suspect is now charged in last month's baseball-bat killing of 24-year-old Dillon Graham at an encampment off Highway 509 – and he's someone we have reported on before.
We first reported on the death investigation June 5th; 43-year-old Aaron Rillera was arrested the same day and charged with second-degree murder on June 8th;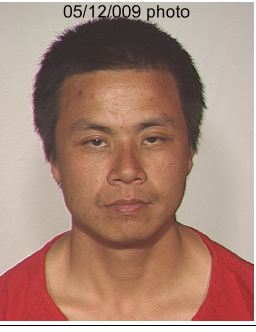 46-year-old Hung M. Pham was arrested this past Monday and charged with second-degree murder today. Pham is alleged to have been the second man reported to have shown up with a baseball bat after a woman sought out Rillera, claiming Graham was trying to rob a friend of hers. Charging documents say Pham has a record of criminal violence, including domestic-violence assault and arson in a 2013 West Seattle case, as well as robbery. Checking the WSB archives, we found the photo you see at right, accompanying this 2013 report on the domestic-violence arson case on the county side of Roxbury, which was linked to an incident in the 9000 block of 16th SW. He was arrested days after that report, and after a plea bargain three months later, according to King County Superior Court online records, was sentenced to a little over two years in prison.
Back to the current murder case, documents say that it took a while to identify and arrest Pham because witnesses to the fatal attack on Graham identified him only as "Pete," but a police officer who got word of the investigation helped his colleagues figure out that "Pete" was Hung M. Pham. He'll be back in court to answer the murder charge in two weeks; prosecutors are asking that his bail be set at $2 million.