(QUICK LINKS: School closures/delays here … Metro bus reroute info here … SDOT 'where plowed' etc. map here … More traffic cams/links are here … No Seattle Public Utilities solid-waste collection today … Library branches closed …)
Seriously snowier in the past few hours. At least 2" pic.twitter.com/R8wTMJDr1B

— West Seattle Blog (@westseattleblog) February 6, 2017
4:07 AM: The snow has continued in the past few hours and at least 2″ is now on the ground where we are.
4:11 AM: Just announced – Seattle Public Schools CLOSED TODAY:
All Seattle Public Schools will be closed today, Feb 6, due to icy and snowy road conditions. No School today!

— Seattle Schools (@seapubschools) February 6, 2017
4:17 AM: Also just announced – Highline Public Schools CLOSED TODAY. Continuing to update our school-changes list here.
4:30 AM: Here are our usual "live" views from the bridge cameras: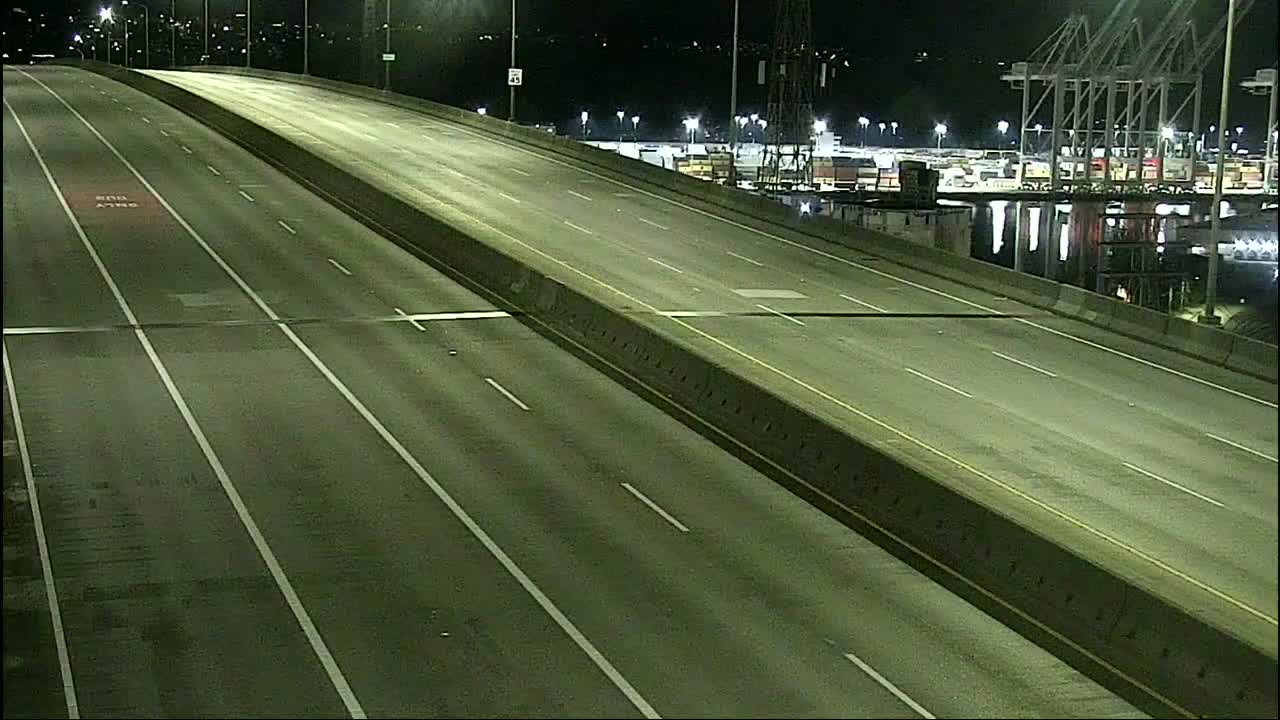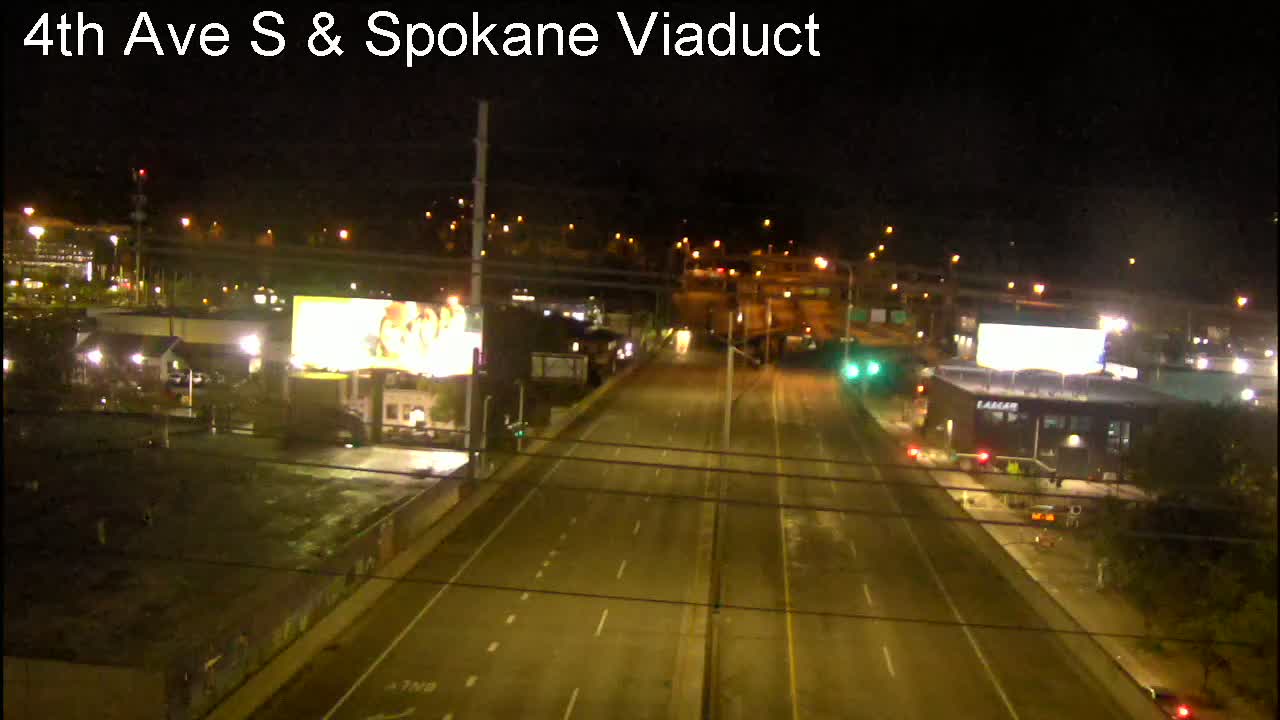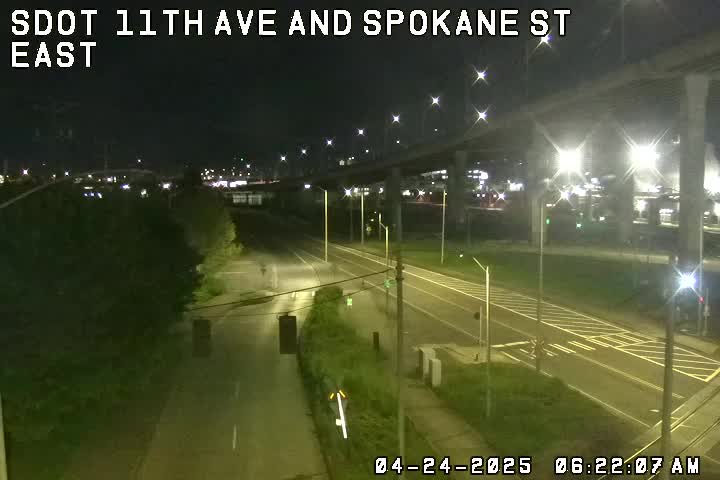 (Click any view for a close-up; more cameras on the WSB Traffic page)
5:06 AM: Big power outage – more than 4,200 homes and businesses. From the City Light map:
Again, we're updating school closures at a separate link (see the top of this story). We have a bus-info link up there too – Metro has snow routes in effect everywhere and has canceled some trips already.
6:00 AM: The power outage is actually affecting more than 5,100 homes and businesses – same map as above but we noticed it's actually showing as two outages, 4,200+ and 970+. Still 11 am guesstimate for restoration, but please remember, could be later, could be earlier. (And if you DO have power – charge everything! Snow like this weighs heavy on the lines and we might see more trouble later.)
Meantime, we're hearing about scattered road trouble on the scanner – a bus got stuck at Olson and 2nd, for example. Thanks in advance if you note a trouble spot and either let us know (text/call 206-293-6302) or post a comment … we'll only hear it on the scanner if police are involved. Here's a photo from The Junction, about half an hour ago – chained-up C Line bus:
We're continuing to update the school-closure list – have just heard from more local independent/parochial schools.
6:46 AM: More non-school closures – All Seattle Public Library branches (thanks, Gina) are closed today, and the downtown branch has a delayed open. Also downtown, Seattle Municipal Court is closed.
Road closure – via scanner, 8800 block of 9th SW is taped off. (Power lines down, we hear.) And thanks again to everyone sharing what they're seeing.
We're continuing to get scattered bus-cancellation texts/tweets (sign up for alerts if you haven't already!) – and Megan just tweeted that "West Seattle buses are packed." As for the weather outlook – still a chance for more snow before the day's over. The Winter Storm Warning remains in effect until 4 pm.
7:15 AM: Almost half the people who lost power a few hours ago just got it back.
Meanwhile, it's starting to get light, so we'll get a better look at all the snow. If you have to head out – please be careful on hills – via Twitter, CJ shared this look at California SW between Morgan Junction and Gatewood:
Makes for interesting commute @westseattleblog @KSeattleWeather #letitsnow #seattle #westseattle #snow #weather pic.twitter.com/PkqEVUa1AH

— CJ Barker (@cjbarkbark) February 6, 2017
Also via Twitter (where we are also updating at @westseattleblog), Jean-Paul sent views of The Junction:
Alaska Junction in West Seattle! #wasnow @KSeattleWeather @westseattleblog pic.twitter.com/9zGaRSnO1N

— Jean-Paul Willynck (@jwillynck) February 6, 2017
If and when you're out later having fun, please send those photos too (editor@westseattleblog.com) – we're hoping to build a gallery.
Couple more notes: Along with Seattle Municipal Court, King County Superior and District Courts are closed today (not in WS but in case you have business there). If you need to go to Sea-Tac Airport, check with the airline first – some cancellations are reported – info and links here. And another transportation note: Boats on the Fauntleroy-Vashon-Southworth route are running late.
7:42 AM UPDATE: Just found out after checking on an e-mail inquiry – if you have Seattle Public Utilities trash/recycling/etc. pickup today, NO COLLECTION TODAY – they're hoping to pick up tomorrow – and that means one-day delay for *everyone* this week, SPU just tweeted. More info on their website soon.
Meantime, here's our video update from westbound Thistle to northbound California, early-daylight view of the same scene we had at the top of this story:
At least another inch in past couple hours pic.twitter.com/cTdEFPkDvm

— West Seattle Blog (@westseattleblog) February 6, 2017
And as for the power outage – still 3,200+ homes/businesses out, with the restoration guesstimate remaining 11-ish (but as mentioned earlier, almost 2,000 got it back much sooner, so hold out hope). Again, this might not be the end of it – so many branches and shrubs are weighed down with snow!
8:15 AM UPDATE: For those wondering about the West Seattle Water Taxi – just got this photo via text, and word that it's been running just fine all morning:
Another road report from a spot with no camera views – from Randy along Fauntleroy Way SW near Fairmount Park:
West Seattle snow update! Fauntleroy / Findlay @westseattleblog #wawx pic.twitter.com/7Dh9yL6puv

— Randy (@Randay206) February 6, 2017
And if you're taking the bus … commenters and tweeters all say it's slow going, with scattered cancellations being reported, so patience is a prerequisite.
Weather update: Still snowing lightly where we are. National Weather Service should have its next "forecast discussion" out within an hour or so, but so far, it's predicting snow showers will continue.
8:46 AM: We're in the middle of a pretty good snow shower right now. Definitely going to add to the total out there. From @MetPatrick22 near the city's highest elevation (that's Fire Station 37 in the background):
@westseattleblog View looking SW at 35/Holden pic.twitter.com/p63y31eyfn

— Patrick kelly (@MetPatrick22) February 6, 2017
Power outage update – More people have theirs back (thanks for the tips!) – according to the SCL outage map, about 1,400 remain without power.
School update – Still some late announcements. South Seattle College has now changed from delayed to closed for the day; we've updated the closure list.
9:31 AM: Also canceled today:

(Added – City Hall photo from Vicki B)
The Seattle City Council's briefing and full-council meetings.
Locally, West Seattle Hi-Yu has postponed tonight's scheduled meeting; new date TBA.
Any business open/closed updates, please let us know about those too, as we will be continuing to update throughout the day – launching a midday update within the next hour or so, after we launch a photo gallery (thanks for all the great photos people are already sending!). We have heard so far from Fresh Flours Bakery in South Delridge – open! – and Kid-Friendly Footwear/Again & Again (4832 California SW; WSB sponsor), "shoveled and open":
"And we have kids' mittens, hats, boots and outerwear, new & used. Open till 7," they report.
10:17 AM UPDATE: We've also heard from Conscious Choice Chiropractic – not opening today until 3 pm – and The Bridge, which is open. We're wrapping up this report now and will be moving to a midday report shortly.
Updates from here are in our Monday midday coverage.