(SDOT MAP with travel times/video links; is the 'low bridge' closed? LOOK HERE)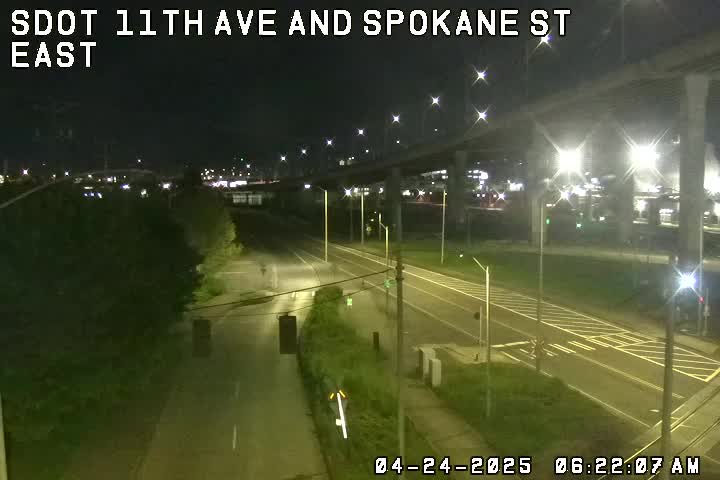 (Click any view for a close-up; more cameras on the WSB Traffic page)
5:04 AM: As promised, we're starting traffic watch – with weather added to it – early, just in case. So far, no snow reported. However, one texter says the West Seattle Bridge is slick. It and 35th SW have been treated, according to the SDOT winter-weather map.
5:35 AM: Still nothing out of the ordinary, except colder temperatures.
6:30 AM: Patrick reports a few flakes in Sunrise Heights.
6:59 AM: Bus alert just texted and tweeted by Metro:
Transit Alert – Route 57 to downtown Seattle due to leave the Alaska Junction Bay 5 at 7:06 AM will not operate this morning.

— King County Metro (@kcmetrobus) December 5, 2016
Otherwise, Metro says, "buses are operating normally" so far this morning.
7:24 AM: @MetPatrick22 in Sunrise Heights is watching the incoming weather and reports, "Another "slug" of moisture inbound and heavier, could bring all snow down to about 300′." That's where we are. So far, everything has fallen as rain – we can hear it in the downspouts.
7:42 AM: Some missing buses beyond what Metro has announced – see comments (125) and Twitter (55).
7:55 AM: First snow sighting here. Also reports of snow in Arbor Heights and Sunrise Heights, snow/rain mix in South Delridge and Highland Park.
8:04 AM: Snow shower continues. Sticking on parked cars here, not on the road:
Also, another West Seattle bus that didn't run:
Transit Alert – Route 37 to downtown Seattle due to leave SW Alaska St & 35 Av SW at 6:46 AM did not operate this morning.

— King County Metro (@kcmetrobus) December 5, 2016
8:21 AM: Sticking on roofs and yards too, where we are. And from Patrick in Sunrise Heights, at 35th/Holden:
@westseattleblog 35th/Holden pic.twitter.com/xWEGZxYHRI

— Patrick kelly (@MetPatrick22) December 5, 2016
8:32 AM: Snowing more lightly here, still not sticking on the road. Photo from Jessica at 37th/Austin in Gatewood:
And this video features snow excitement! Thanks to Ben on Pigeon Point:
Again, SDOT now has a map showing you where plows, de-icing trucks, etc. have been, and it also includes some cool features like road-surface temps (click a yellow triangle) – see the map here.
9:09 AM: Snow's over here, for now. Thanks to everyone for sharing images/video/info! More likely on the way later…
3:45 PM: Metro has announced several more cancellations this afternoon. If you ride the bus, keep close watch on the trip planner, they're advising.