(SDOT MAP with camera/incident links; OFFICIAL INFOSITE for #99Closure; BRIDGE CLOSURES; morning coverage HERE)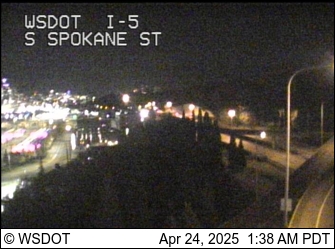 (Click any view for a close-up; more cameras on the WSB Traffic page)
4:05 PM: Good afternoon – we'll be covering traffic/transit this pm in our usual morning style, since it's the first inbound commute of the two-weeks-or-so Viaduct closure.
Updates first: WSDOT confirms that the tunneling machine did start its beneath-the-Viaduct journey around 9 am. The first progress report is expected in a few hours … @voght tweeted that the 30th/Yancy/Avalon intersection, scene of safety-project work the past few hours, is now fully open again.
4:17 PM: Car vs. pedestrian crash reported at 1st/Horton. … Moments later, also via scanner, police report they and SFD responders aren't finding either car OR pedestrian.
4:52 PM: Multiple commenters report the Lander bus reroute headed this way is delay-plagued because of trains.
5:08 PM: Remember the stadium zone is extra-busy because the Mariners are home tonight, hosting Kansas City. We're headed outbound to see what the inbound routes look like outside of webcam range.
5:21 PM: Crash under the bridge, near 26th/Spokane, with injuries. We're heading that way. (added) Per the photo Josh tweeted, passing on a bus, it's along the trail on the westbound side of Spokane. Per scanner, victim is a pedestrian hit by a vehicle; injuries include a broken leg.
5:39 PM: Right lane of westbound Spokane is blocked, right by the 26th SW sign (and a "stop for pedestrians" sign).
Left lane is getting by. Bike/pedestrian trail is open. The victim, a 57-year-old woman, will be taken to the hospital by medic unit. The driver is still at the scene, talking with officers. Transit note: Standing-room-only 21 just went by.
5:47 PM: After leaving that scene, we're continuing eastbound to see how some of the inbound routes look. Low bridge is wide open. We're on surface East Marginal north of Spokane now, passing the cargo terminals; little traffic also flowing well both ways – more southbound bicycles than any other vehicles.
5:58 PM: Heading back into West Seattle. The crash scene mentioned above on westbound lower Spokane is now completely clear.
6:24 PM: For the first time in more than 12 hours, and only the second time today, the "low bridge" is closing to land-based traffic so it can open for vessel traffic, per @SDOTbridges (which we are linking to the top of each commute report during the Viaduct closure).
6:34 PM: Big current problem – apparently a train-crossing gate on Lander is stuck in the down position and buses using that as the reroute are backed up in a big way.
6:38 PM: The "low bridge" has reopened to land-based traffic.
7:01 PM: Scanner – the train gates should be "functioning" again. Meantime, the Water Taxi's about to shift into its hourly mode for the rest of the evening. We stopped by Seacrest briefly about an hour ago.
As a sizable group (we're hoping to get the pm numbers later) disembarked, a downtown-bound line awaited. In comments, Elton says about 100 people were in line downtown a short time ago, awaiting the current run back this way. Michelle shared this look at what the downtown queue for the 5:15 trip to WS:
That photo was courtesy of her sweetie, who was first in line.
8:30 PM: We've learned from King County DOT that the run all those people were waiting for had a ridership of 236 – not far from capacity, and more than four times the passengers on the same run last week.