(From draft Seattle 2035 Comprehensive Plan)
By Tracy Record
West Seattle Blog editor
Will Seattle finally ask voters in White Center and the rest of still-unincorporated North Highline to let themselves be annexed?
The answer to that question now rests with the fate of a bill making its way through the Legislature, approved by the State Senate in late January, heard in a State House committee last Friday, and headed for an executive-session discussion in another committee this Wednesday: SSB 5964.
It boosts the amount of state sales tax that can be diverted to the city to cover the cost of annexing (read the full text here).
An update on the bill was part of a briefing the Westwood-Roxhill-Arbor Heights Community Council received from the city's longtime point person on annexation, Kenny Pittman. He spoke during WWRHAH's February meeting, which was focused on the status of the Westwood-Highland Park Residential Urban Village and how neighboring White Center might play into it if annexation happens.
While the city waits to see if the bill gets final legislative approval this year, the annexation proposal is on hold with the King County Boundary Review Board, which would have to give its blessing before the proposal could go before voters, as would the Seattle City Council, which has had major turnover – four of its nine members – since giving approval to an early step in the process last summer.
With the city updating its Comprehensive Plan now, via the Seattle 2035 process, WWRHAH is not content to just let this all play out and then wonder how Westwood and White Center might become part of some sort of coherent planning process later. So this month's discussion was intended as something of a jump-start. WWRHAH, explained co-chair Amanda Kay Helmick, wants to create a joint plan that includes White Center: "Something for people to vote on!"
That underscore: If there's a chance White Center and vicinity might become part of Seattle within a few years, why wouldn't planning already be under way, since the city is close to launching its vision for the next 20 years?
The answer seemed to be, in part, that the planning still might be inadequate on this side of the city/county line.
Westwood-Highland Park was designated a Residential Urban Village in the '90s, and as Helmick often points out, it's been neglected, to say the least, by the city. The newest complicating factor is the 6-line transit hub at Westwood Village, surrounding that area with what's intended to be "transit-oriented development." Currently, some of the redevelopment is emerging in patterns and places that seem "weird," to say the least, WWRHAH leaders observed. "Development is happening," summarized Kim Barnes, who is leading those issues for WWRHAH. Helmick added, "Instead of letting the developers dictate how that goes, we want to dictate how that goes."
Prospective annexation has been out there for a long time.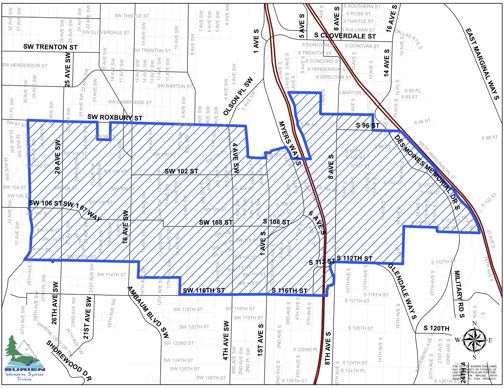 City rep Pittman said his daughter was in middle school when he started working on annexation issues – and now, he said, she's 26.
He told WWRHAH that the progress for the annexation-tax bill was good news after three years in which the bill got out of the House and died in the Senate. This year, 34th District State Sen. Sharon Nelson's bill passed 44-4 early on, and, according to Pittman, is expected to be approved by the House. It's been changed to $7.75 million for a six-year period, Pittman said, to cover the changes. Assuming it does win final legislative approval – again, the next committee review is this Wednesday – and that the City Council decides to send annexation to the ballot, Pittman thought a vote wouldn't happen any sooner than November 2017.
The annexation tax doesn't actually raise anyone's tax – it diverts some of what would have been state sales tax to the annexing city, instead, for a fixed period of time. As for the overall tax picture for residents – Pittman contended that property taxes would fall for unincorporated-area residents if they are annexed by Seattle. And residents would no longer be paying an operating levy for King County Libraries, nor a fire district charge. "Some things will go up," he warned. "What if you have a business?" asked an attendee. "You'll be exposed to B&O tax." North Highline Unincorporated Area Council president Barbara Dobkin, in the audience, noted that the area would still remain in the Highline Public Schools district. True, said Pittman, unless the districts themselves tried to change. And he said, WC residents would have access to Families and Education Levy money. "Don't look at annexation as dollars and cents – what does it mean for you, what does it mean for your family, and what does it mean for the community as a whole?"
If voters decide not to annex, rejecting Seattle as they rejected Burien in 2012? There is nothing to punish them at this time, said Pittman. The area doesn't have any way of generating enough revenue to form its own city, though, he added, in response to a question.
The North Highline Fire District station would be staffed by Seattle, he added. Additional police officers would be hired – from the community, he said. They would have to hire those who would lose their jobs "and we would pick up all the firefighters." Pittman promised that both sides of the issue would be shown – "there are some benefits, and there are some additional costs."
Dobkin said she sees more problems on this side of the city limits line than on the unincorporated side, and she wondered how the city would be hiring more police when it can't fill the openings it has now. Pittman said all he could say was that the additional hiring was part of the plan SPD had outlined. She said to him as he wrapped up, that North Highline deserves to have a briefing.
Then it was on to the Comprehensive Plan – Seattle 2035 – with the mayor's recommendation due out in April,
Patrice Carroll provided a quick primer and said, relevant to the area under discussion, that they are looking at places that are at highest risk of displacement, among other factors – places that haven't had much development for the past 20 might get it in the next 20, and that they're exploring the question, "How can we create more access to opportunity in more places?" A few more points she flagged: "A proposal to kind of tighten up where we have growth and where we have transit" – areas within a 10-minute walk of frequent transit would be spotlighted – but they have to make sure they have the correct boundaries showing those areas. "And it's a really big change, changing these lines," she said, when the draft plan came out. Feedback about the Westwood transit hub was offered – "why isn't our boundary reflecting that?" was among that feedback. "We agree with you – this station IS lighting up for us," Carroll said.
What about White Center, since it's not annexed (yet)? There's only one place it's mentioned in the Comprehensive Plan – in the "proposed annexation areas." Carroll said she can't make any promises, but they'd likely want to do some planning if this comes to fruition in the next six years or so.
"But it's really one community, so we're like planning half the community," an attendee suggested.
"Well, the kind of planning we're doing is evolving – (the department has) a new name, and a new mission."
But is King County's planning dovetailing at all with what Seattle is doing? asked Pat Price from the North Highline UAC. They do plan together, said Carroll, mentioning the city's ongoing HALA (Housing Affordability and Livability Agenda).
That's where WWRHAH co-chair Helmick jumped in and said that what the city wants and what they (the community) want, are different. In the Westwood-Highland Park area, "we already have affordability- so how do we keep it?" Helmick asked.
Carroll started to say much less growth had happened than the city expected – Helmick said, that's not the point. "We want growth, we've wanted it for 20 years, but the city has decided this isn't the area we wanted to invest in. … You guys have changed the rules without talking to us."
"It's about a pattern of growth," Carroll said. They can't say which lot is going to be developed next, but, she suggested, people need to review the draft Comprehensive Plan to see if some components "make sense to you" – including, for example, the urban-village boundary.
"The city has not been intentional about this area or White Center for many years," spoke up Chris Arkills – who is a Westwood resident as well as County Executive Dow Constantine's transportation adviser – from the audience.
Another resident said he's seen the ongoing pattern – city allows an area to get rundown, developers come in and snap it up.
Carroll said she and fellow city planning staffer David Goldberg understand the community wants specific planning. They can't promise resources but can talk about what it would be like when communities come together to plan. For a shared planning process to work, they said points of agreement would be important – such as the rate of growth, whether there's a "pressure of displacement," whether the planning process is welcome.
They suggested it would be "maybe worthwhile" to wait a bit before embarking on pre-annexation planning, but once they do, the Office of Economic Development and Office of Housing would be involved, an advisory group convened, and then "pavement-pounding" would ensue.
Right now, with the future unclear at best, they can't commit to when any of that might happen. But the tax-credit bill's date with the State House Committee on Finance is the next step – and next stop … this Wednesday.
WWRHAH is changing its meeting nights starting next month, because of conflicts with the Southwest Library schedule – it will now move to first Mondays, 6:15 pm, which means the next meeting is March 7th.