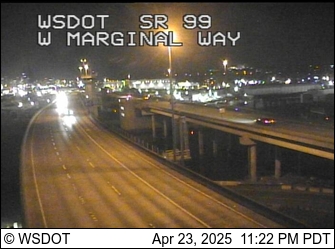 (City cameras are broken again, so here's a state camera, 1st Ave. S. Bridge; see other cams on the WSB Traffic page)
6:47 AM: No specific incidents so far on the routes through/from West Seattle, but we're watching as usual, for the morning commute and beyond.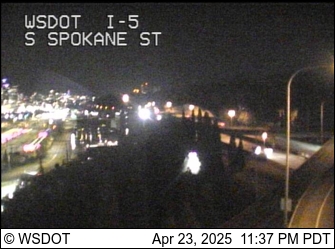 8:05 AM: Thanks to the commenters who pointed out that the SDOT cameras are stuck again. So we've switched to two state-run cameras, facing south over the south end of the 1st Avenue So. Bridge, and looking south over I-5 just south of the West Seattle Bridge.
8:33 AM: Tommy and Lindsey have both pointed out that new stop signs are installed on the 26th SW greenway in North Delridge. (Added Tuesday pm: Greenway info/map here) And, not all drivers are noticing. Tommy sent this quick clip:
And Lindsey tweeted:
There's a set of new stop signs up at 26th & Juneau. Beware, a lot of cars haven't noticed them yet. @westseattleblog

— Lindsey Hurd (@lindseyhurd) November 19, 2013
By the way, if you have a question about neighborhood traffic safety, SDOT's Jim Curtin is the person to ask, and he's the guest at tonight's West Seattle Crime Prevention Council meeting – 7 pm, Southwest Precinct (Webster/Delridge).
P.S. The city traffic cams are working again, so here's the east-facing one from the bridge:
For more cams, see the WSB Traffic page.
10:32 AM: SDOT reports via Twitter – and commenters have noted here, too – that northbound 99 is closed at Battery St. Tunnel.
4:32 PM: From SDOT – an alert for tomorrow morning:
Tomorrow morning, November 20, the Homeless Advocates March will get underway at 7:45 a.m. after the participants spend the night at Westlake Park. A Seattle Police motorcycle escort will accompany the 100 participants in the street as they make their way east on Pine Street to Fifth Avenue, then southbound on Fifth to the City Hall at Cherry Street. The activists have a goal to "Get 1000 people off the streets by summer 2014." They will occupy the Committee to End Homelessness in King County (CEHKC) Governing Board Meeting being held at 8:30 a.m. in the Bertha Landis Room of City Hall. Motorists can expect to encounter delays between 7:45 and 8:30 a.m. as the marchers move along the downtown streets. Given the timing of the event, commuters may need to allow for extra time to get to work.