(WSB photo of fire scene, 2/13/13)
Six weeks ago, we reported on an early-morning arson at that home at 25th and Roxbury – on the county side, but affecting drivers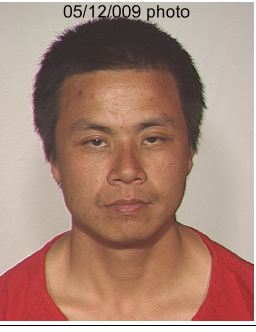 from both West Seattle and White Center as the investigation continued into the morning commute. Today, we have learned that 43-year-old Hung Minh Pham (right) is charged with domestic-violence arson – and that KKing County Sheriff's Office is seeking him with a $1 million arrest warrant (that's the amount his bail will be set at when he's caught). Word of the search comes from KCSO spokesperson Sgt. Cindi West, who also says that Minh is believed to be homeless and known to hang around the White Center area.
Since we first published word of the search on partner site White Center Now earlier this afternoon, we have learned more about the case from court documents obtained online: Pham is charged with first-degree arson/domestic violence, third-degree assault, and second-degree assault/domestic violence. The court documents say the victim is a 20-year-old woman described as having been in a "dating relationship" with Pham for two years. The information about the fire – said to have started when he set the victim's clothes on fire – apparently emerged after an incident in West Seattle, in the 9000 block of 16th SW, a week ago, detailed in the second paragraph of this excerpt from charging papers:
(The victim) has been assaulted by the defendant throughout their two-year dating relationship. As recently as January 2013, the defendant attacked the victim with a baseball bat while she slept sending her to the hospital. In early February 2013, the defendant held a knife to her throat and struck her in the head. On February 13, 2013, the defendant was angry because he could not locate the (victim) at the house she was staying. After searching the home, he gathered her belongings in her bedroom, poured paint thinner on the items and essentially attempted to burn the house on down. The fire spread through the lower structure and rendered the home unsafe and uninhabitable.

On March 22, 2013, the defendant pummeled another victim … in her own bedroom with a detachable wooden wall shelf just because she asked him to be quiet one late night. During the same incident, the defendant went on to attack (his girlfriend, the first victim) as she came out of the bathroom, knocking her to the floor, climbing on top of her punching her repeatedly in the face then finally strangling her to the point of unconsciousness. (She) awoke to the defendant kicking her repeatedly as she laid on the floor. The victim was only able to escape when (the second victim) intervened. (Both women) were both later treated by SFD and taken to Harborview for treatment.
If you see Pham, call 911.