(8:23 PM UPDATE: Police say West Seattleite driving on I-5 caught in crossfire)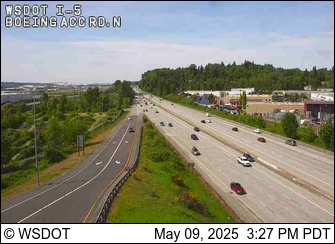 ("Live" image of I-5 at Boeing Access Road – refresh page for newest view)
5:04 PM: An incident on southbound I-5 in the Boeing Field area has backed up traffic all the way to the West Seattle Bridge – with northbound slowdowns reported too – and since a stretch of northbound 99 is currently closed just north of here, that means bridge backups. According to KING 5, this is a crash that was preceded by "an exchange of gunfire between the occupants of two cars." More to come.
5:36 PM: Update from WSDOT:
Two lanes on SB I-5 open at Boeing Access Road.Flipped SUV onto wheels. Thx for your patience. Tell a friend about our twitter feed!

— WSDOT Traffic (@wsdot_traffic) July 30, 2012
Seattle Police also have updates, via Twitter, saying that one person was shot, and is expected to survive. They say that one of the vehicles involved in the dispute hit one that was not, and that caused the rollover crash.
5:55 PM: WSDOT says all lanes are open again.
6:36 PM: SFD has an update on the people injured – two in the flipped car, one shooting victim in a different vehicle.
8:23 PM: The SPD Blotter version of all this has just been published, and it includes this new information: Police say a "stray bullet" hit a West Seattleite's car. From their report:
Another innocent motorist who was driving southbound on I-5 got his windows shot out by a stray bullet fired by the suspects. That driver (who was the only one on board his vehicle) drove home to the West Seattle area and called 911. An officer responded and took a report on that incident and documented the property damage. The driver was not injured.
8:39 PM: Police also have added this clarification – the original incident was not an "exchange of gunfire" – only one car, which has not yet been found, had someone in it who was shooting; the car in which someone got shot, and which hit the vehicle that overturned, did NOT have anyone firing a gun, and was not even found to contain anyone with a gun. The SPD report now includes this:
There is no indication at this time that the shooting victim ever shot back at the suspects or suspect vehicle and no firearm was located on the shooting victim.