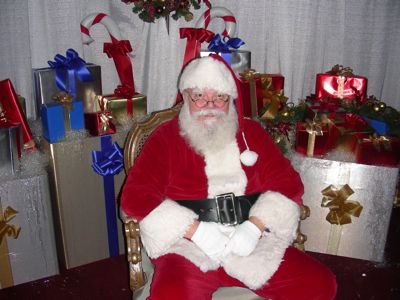 (2008 WSB photo of the former Westwood Santa)
As reported here earlier this week, Westwood Village is changing the way the center does Santa Claus photos. They're adding days and hours – Santa will be there daily starting right after Thanksgiving. But they're also changing the procedure, and the person. They are now contracting with Arthur and Associates, a longtime Seattle-based Santa-photo business, which charges for photos – after Westwood Village, for years, offered photos for free, provided you made a food-bank donation. Arthur and Associates told WSB they had asked the longtime WV Santa to work for them this year, but he declined. Then, in WSB discussions, news emerged that the longtime Westwood Santa just might emerge someplace else, and many expressed interest. We finally got a chance to talk with him today – and we have confirmation of at least one place he plans to be:
"Santa" makes it clear he has nothing bad to say about Westwood or the folks who will be handling the photos there this year. They offered to pay him, and let him work whichever hours he wanted to, he confirmed, while saying that's just not the way he wanted to do photos.
He is a longtime West Seattleite who has been "Santa" during the holiday season for more than 15 years. And this isn't the first time he's decided to do things his way – he tells the tale of working two seasons as a Santa at Nordstrom, then quitting when they wouldn't pay for his parking. He has fond memories of being one of the rare Santas with a "real beard."
Ironically, he told us, Westwood used to have a "paid Santa" – but "they weren't making any money, so they folded and said 'no Santa'. My wife worked at Washington Mutual. Because I'd retired and grew a beard, everyone thought I'd be a great Santa. I never say no to my wife! So I went ahead and did it. I enjoyed it, did it every year."
He says he's pretty sure he's going to wind up at a specific West Seattle business – but he wasn't sure things were finalized, so urged us to check with that business before publishing details of that plan. We have phone and e-mail messages out to the business and haven't heard back yet. Santa told us they were looking for a photographer to volunteer.
But we did hear this afternoon from Holy Rosary School teacher Mary Corrigan, who says "Santa" will be there for a morning on Saturday, Dec. 10th from 9:00am until 12 noon. (Santa revealed to us that he worked for years at Holy Rosary, and always enjoyed the fact that the kids didn't seem to recognize him in the role of "Santa.") Mary says, "We will not have a photographer, but folks can bring their own cameras. We will have a station set up inside the school hall where kids will get candy canes and parents can take their own photos, so long as they leave a canned good for the food bank."
When we get confirmation of any place else this Santa will land, we'll let you know. And of course, Santa already has gigs booked in West Seattle – the three traditional Hometown Holidays Sundays at City Mouse Studio and Store, with Donna Ryan Photography on December 4th and 11th, DIY photos on the 18th, plus Arthur and Associates' photos all season long at Westwood.
Meantime, with a merry laugh – and a cellular connection on our end that just suddenly flew away like St. Nick and his reindeer – our conversation was over. And to all a good night!