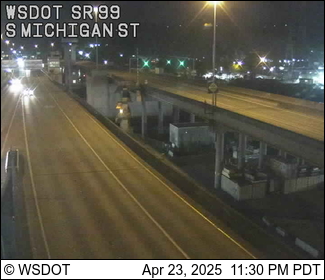 (More cams on the WSB Traffic page; travel times on the city Travelers' Info map)
Viaduct-less weekday 4 of 5, and we're back on commute patrol – updates to come.
6:15 AM: The high bridge is starting to get busy – as has been the case every day this week. (…few mins later…) First Water Taxi run has 76 on board. After three days of TV crews at the dock, nobody there today but our crew. Lots of parking – if you've been off all week, remember there's special parking 6 am-8 pm at Don Armeni Boat Ramp.
6:30 AM: One commenter says early traffic seemed a bit lighter than the first few days of the week. Right now, though, live cameras show the same 6:30 am bridge slowdown we've seen all week. That's the high bridge, anyway; KING 5's chopper just showed the low bridge as well, and it's moving nicely.
6:45 AM: High bridge busy-busy. No problems around the heart of the metro area. Weather's still dry, too, though the forecast had been iffy. 84 people on this run of the Water Taxi. Though the WT numbers are notably down from the Monday peak, if you're a stats fan, still way up from the average (scroll down this page and you'll see the 6:45 run in September, for example, averaged 15 passengers on Thursdays – even without the 6:15 am run that's been added just for this week). Low bridge still looks lots better than the high bridge – if you are headed south, another reminder, the new East Marginal Way Grade Separation flyover is right there at the end of the road from the low bridge, taking you over the tracks and toward E. Marginal.
7 AM: High bridge slow, low bridge good, no problems on I-5 (or anywhere else around the heart of the metro area). KING reporter says the Port of Seattle told her the ship schedule is lighter today, so that means fewer trucks (and trains, perhaps? see our afternoon commute report yesterday, as we staked out the 1st So Hanford detour toward the low bridge). Scanner's quiet this morning. Twitter quiet (whomever tweets for King County is soliciting Viaduct haiku). Preplanned 4-day weekends?
7:15 AM: Unless something unusual happens, we're updating every quarter-hour this morning. The bridges have been reruns – so far! – of the past few mornings, high bridge busy but NOT total gridlock, low bridge running faster, buses doing well, 1st and 4th Ave. So. busy. We're still watching the Water Taxi, as it's continuing to run well above normal (but no sellout runs since Monday, so don't worry about a wait). … 119 on the 7:15 run, which is up a few from yesterday.
7:30 AM: Water Taxi lot half-full, lots of parking remains (some on the street too). High bridge loosening up a bit earlier than yesterday, but still busy.
7:45 AM: The predictions that today might be the worst commute of the week due to complacency, reverting to old habits, etc., so far NOT bearing out. Water Taxi ridership up again for this run too – 125, our crew at the dock reports, up from 108 on the same run yesterday. That's still NOT a sellout, so there's room on board and room in parking. On the high bridge now, you don't hit a backup till past the (closed) 99 exit. Police are out ticketing bus-lane violators again today, per commenter Karla.
8 AM: Water Taxi parking lot at Don Armeni is full. But there's still street parking. High bridge same as last report – doesn't slow down till you get to the downhill by what's usually the Viaduct offramp.
8:20 AM: High bridge looks good now, even past 99. No problems except some fog if you're heading to the eastside (as our Viaduct Crunch partners at KING 5 just showed on the I-90/Rainier Ave. view). Awaiting the 8:15 Water Taxi report. … here it is: 102 riders. Down a bit from yesterday (maybe those riders just timeshifted earlier). Lovely morning:
Tomorrow MIGHT see some rain, per the newest forecast …
8:45 AM: All's well. If anything changes in the next hour or so, we'll add it here … otherwise, it's on to the news of the day, and to afternoon-commute monitoring starting between 3 and 4, depending on how things are going.
11:55 AM: Double-digit ticket totals for the bus-lane-violation patrol again today.