*The afternoon edition has just launched here*
(11:09 AM TOPLINE: No problems reported; bridge/Viaduct 'bare/dry' per city … Trash/recycling pickup is CANCELED … Most schools closed … Quick links below cams)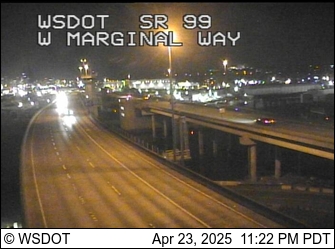 (Refresh for latest pic of WS Bridge, looking eastbound, and 1st Ave. S. Bridge, more on the WSB Traffic cams page)
One more icy commute before the holiday. Metro remains on snow routing; the West Seattle Water Taxi is back in service. Most schools are out; here's the list. (By the way – the University of Washington changed its mind late last night and is now closed for the day.)
6:07 AM UPDATE: Just took a quick spin around online and so far no major problems reported in our area right now. 17 degrees at Sea-Tac at the top of the hour.
6:30 AM UPDATE: Thanks for again sharing road reports (and other updates) in the comments. We're also monitoring, and posting updates to, Twitter and Facebook. The weather forecast looks the same as it did last night; the National Weather Service has renewed its "special weather statement," warning of "sub-freezing" temperatures through Thanksgiving morning – again today, we won't get past freezing, but tomorrow afternoon, the 40s should return.
6:39 AM UPDATE: Trash/recycling pickup POSTPONED again today – as it was yesterday – put out double next week; this just in from Seattle Public Utilities. (And if you have Thursday pickup, that's already postponed till Friday, for the holiday.)
7:15 AM UPDATE: Starting to hear from some people with water trouble. Angela at 35th/112th has none. Someone on Twitter has frozen pipes. We'll be checking with Seattle Public Utilities to see if they know of any major problems – if it's just your house, though, the responsibility is yours. A few reminders originally posted yesterday: Today's Rotary and Kiwanis meetings are canceled; Seattle Public Library branches will be open noon-5 pm. Also heard this morning from Allstar Fitness: Open regular hours but morning classes canceled, and SW Yancy is still very icy.
7:37 AM UPDATE: The city has just issued its latest roundup of service status. You can read the whole thing here; highlights – Viaduct/West Seattle Bridge "bare and dry"; roads considered "snow routes" are in "good" condition; community centers and Camp Long will be open 10 am-5 pm for drop-in activities but programs are canceled; the roundup also has advice about dealing with frozen/broken pipes!
8:04 AM UPDATE: Here's that pipe advice, from SPU.
8:37 AM UPDATE: Still problem-free, roads and buses, per WSB commenters and the other streams we're watching. Here's our most-recent photos of nearby California/Thistle corner (both arterials) – typical, says the city, for major routes:
9:30 AM UPDATE: Still quiet!
11:09 AM UPDATE: From SDOT via Twitter: "SDOT has 12 pedestrian crews out clearing city owned sidewalks and landings right now." We have "unstuck" this item so it's no longer atop the page, but we will launch an evening-commute version after 3 pm, with other news higher up in the meantime. Once again, THANKS for sharing information photos, and for just being here.