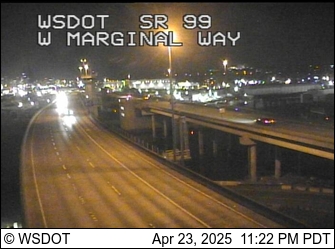 (Refresh for latest pic of WS Bridge, looking eastbound, and 1st Ave. S. Bridge, more on the WSB Traffic cams page)
Starting this a little earlier than planned, as there are various things to note: South Seattle Community College is closing at 2 pm and canceling evening classes, for starters. This report will again be "stuck" to the top of the page, with newer news appearing below it for now. You can find the morning/midday/early-afternoon reader reports on road conditions by going here. If the clouds are worrying you, here's the forecast as updated this morning:
MOSTLY CLOUDY WITH A CHANCE OF VERY LIGHT SNOW OR FLURRIES. NO ACCUMULATION EXPECTED.
2:34 PM: No road problems reported currently (or all day!), in case you were wondering. Also a reminder that both city libraries and community centers are closing at 5 pm.
4:48 PM UPDATE: No problems on the roads. Reminder that we have published our "who's open Thanksgiving" list for restaurants, grocery stores, and coffee shops – find it here – and the West Seattle Holidays page has a few other Thanksgiving notes, such as holiday workouts. If you have to drive tomorrow morning to get to Grandma's house (or anywhere else) for Thanksgiving, WSDOT warns that road ice is possible with temperatures still low and a "mix of rain or snow in the forecast." (Since WSB is 24/7/365, if there's anything you need to know in or around West Seattle, we'll be here.)
5:01 PM UPDATE: There's a new "winter weather advisory" in effect 6 pm tonight to 1 pm tomorrow, with that chance of light snow/flurries tonight/tomorrow morning, plus, once the temperatures warm tomorrow morning, "a chance of light freezing rain or light sleet."
5:56 PM UPDATE: Metro will remain on snow routing through at least tomorrow morning. Tomorrow it's on Sunday service; Friday it's on "reduced weekday service." And Thursday-Friday, there's no King County Water Taxi (that goes for the shuttle buses too).
6:49 PM UPDATE: Via Facebook, Stacey reports some snowflakes in north West Seattle. Nothing down here so far.