(Photo courtesy King County Department of Transportation)
Less than four months' time has gone by since South Park residents — and others who use the 14th Avenue South Bridge — started getting major, repeated, public warnings that King County would close the deteriorating old bridge permanently at 7 pm June 30th. (Here's our report from the 1st major public meeting back on March 9th.) June 30th is here, and much has changed – while some of the fury over the closure turned to acceptance, much of the energy also has channeled into two drives: First, to make sure money would be found for a new bridge (as of last Friday, $80 million has now been committed toward the $130 million needed); second, to make sure that South Park's businesses do not wither and die during the bridgeless time. Tonight's "wake," 6-10 pm, is partly meant to make a statement along the latter lines, so South Park is hoping that many will come to not only mark the end of their bridge's life, but to see what they are like as a community, and how they plan to survive and thrive during a tougher-than-usual time. There are ceremonial events (including a final walk on the bridge) planned before 7 pm, with live art (muralists painting the bridge), live music, and restaurant specials during the evening as well (here's the schedule).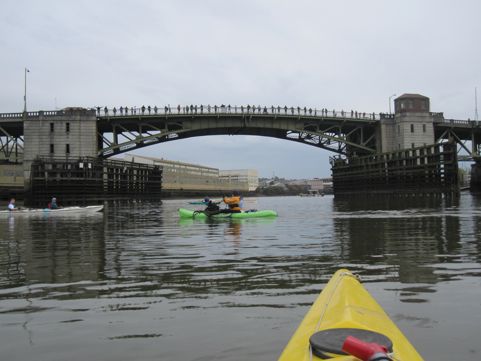 (Photo by Dale Rowe, from April demonstration on the South Park Bridge)
If you've never been to South Park, one way to get there is to take Roxbury all the way east, and keep following as the road curves around and over Highway 509, then becomes Cloverdale S., the main east-west route, which ends in the business district at 14th (the bridge is a left turn/northbound from there). And/or you can mark the occasion right here in West Seattle – Feedback Lounge (WSB sponsor) is planning a South Park Bridge Wake starting at 6 (details on the FL home page, where you also can read about the bridge memorial T-shirts the Feedback's been selling, so popular that South Park residents have made runs up here to procure more).
(County rendering of what the South Park end of the bridge will look like, right after the shutdown)
As for the practical aspects of the closure – at 7 pm, the barricades go up, and so do the bridge's "leaves," permanently. Demolition comes later. Three bus lines were rerouted as of 5 this morning. You can read about all that here. And on the emotional side – we wanted to share two links that have been brought to our attention: a South Park Bridge tender's farewell, and memories from a couple who met on the bridge.