(Hat tip to the WSBers who e-mailed to say the for-sale sign was down and activity was afoot at ex-Beato)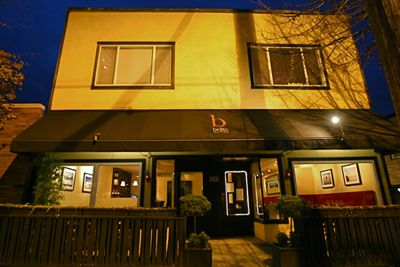 (11/2008 WSB photo by Christopher Boffoli; the Beato-logo awning has remained up since then)
By Mary Sheely
Reporting for West Seattle Blog
Another new restaurant is soon to open in West Seattle, this one at 3247 California SW (map), the space formerly occupied by restaurants including Beato, O2 and Ovio.
Achour Belambri, along with his wife, Khadidja Romari Belambri, just filed for a license to serve beer and wine at Eness, a restaurant that will specialize in food from the Belambris' native France and, according to Khadidja, the entire Mediterranean Coast.
"It's not 100 percent French," she says. "Some dishes from Italy, France, Greece. Well, not too many from Greece."
The restaurant is named for the couple's nine-month-old daughter, who babbles happily in the background as Khadidja talks.
"Her real name is Ines, and just to make it simple in terms of pronunciation, we converted it to Eness," she says.
The couple first moved to the US in 2003 for Khadidja's job as a scientist. She is now the director of algae production for Targeted Growth, developing new biofuels and bio-energy, and as such will only play a peripheral role in the restaurant.
Achour, who worked for many years in restaurants in France, is currently renovating the new space and will serve as the Eness chef.
The couple live on Capitol Hill, but began planning a move to West Seattle six months ago.
"I heard a lot of good things about this area," says Khadidja, "and we had this opportunity with the Beato restaurant that was closed and we were interested in that."
West Seattle, she says, "seems to be kind of like a village, and people interact pretty much together, and it sounds like a very, very special area."
An official date is not set, but the couple hopes that Eness will open by the end of February.