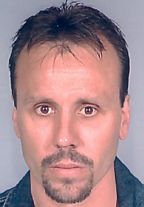 During a brief hearing this afternoon in a courtroom at the King County Jail downtown, a judge "found probable cause" to keep 41-year-old Richard L. Lovejoy (left) in jail until a hearing Wednesday on what, if any, bail amount should be set for him. Lovejoy is the convicted rapist arrested early Sunday morning (WSB coverage here, including victim's story) in Fauntleroy, where he is suspected of breaking into a home shortly after trying to break into the Colman Pool building in Lincoln Park. Thanks to King County Prosecuting Attorney's Office media liaison Dan Donohoe for providing us with the document used at today's hearing (which we attended, though the suspect himself did not actually appear); it says in part:
Suspect Lovejoy broke out two windows at the Colman Pool in Lincoln Park. The sound woke up the on-site caretaker, who confronted the suspect as he tried to enter via a broken window. The suspect ran off into the park and officers were unable to locate him. A truck registered to suspect Lovejoy was located illegally parked at the entrance to the Lincoln Park beach service road at 7171 Beach Drive SW. Several hours later, a report of an occupied residential burglary came out several blocks away. The suspect (Lovejoy) in that instance was captured.
The report goes on to say that a witness from Colman Pool identified him as the same suspect in that earlier break-in attempt, and later in the document, under the section that asks whether law enforcers would object to the suspect's release, it says "Do not release. Suspect is a convicted felon and sex offender (and is on active Department of Corrections supervision)." His sex-offender status emerged in the comment thread on our followup report; we found him in the public lookup system, registered to an Arbor Heights address, and that's where the photo you see at above left comes from. The document from today's hearing also lists his criminal history as including: Rape, escape, drugs, harassment, domestic violence.