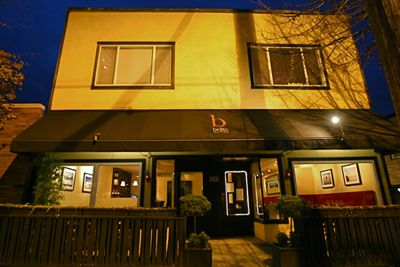 (Photo by WSB contributing photojournalist Christopher Boffoli)
We reported last night on the impending closure of Beato Food and Wine after 2 years. Owner Brandon Gillespie promised more information today, and it's in now. For starters, he says: "Beato is currently for sale. Anyone interested should contact Laura Miller at Catalyst Commercial Partners, 206-351-3573." (Same listing agent as Blackbird.) His official statement in an e-mail newsletter includes information on final specials:
Due to the current economic conditions, I unfortunately have no choice but to close the doors of Beato Food & Wine. I cannot express how saddened I am to have to do so, and how much I have appreciated your business and support over the last two years. I want to thank the entire staff for all of their hard work. And more importantly, I want to thank all of our wonderful customers who supported us throughout. The final day of operation for Beato will be Friday, November 14th.

In an attempt to celebrate the last week and a half of the restaurant, we have changed the menu as well as designed a four-course tasting menu with wine pairings, available Tuesday through Thursday, for a great price. In addition, from now until our closing, we will be offering a 30% discount on all bottles of wine. Once again, I want to thank everyone who supported Beato over the last two years and invite you to join us one last time to taste an exceptional wine flight as well as what I believe is our strongest menu to date.
(Here's the info on that "wine flight.") Beato opened in December 2006 in the space that had previously been O2, after Ovio Bistro moved to The Junction (where it closed in June 2007, in the space now held by Ama Ama). It should be noted that while Beato will be the second West Seattle restaurant to close this fall, three are still scheduled to open — Cafe Revo on Avalon (new construction photos here), Fresh Bistro at Mural across from Jefferson Square (most recent WSB coverage here), and Zeeks Pizza in Morgan Junction (WSB coverage here) — and on a smaller scale, today is opening day for the OK Corral barbecue takeout place in the Triangle area (here's our story from last weekend).