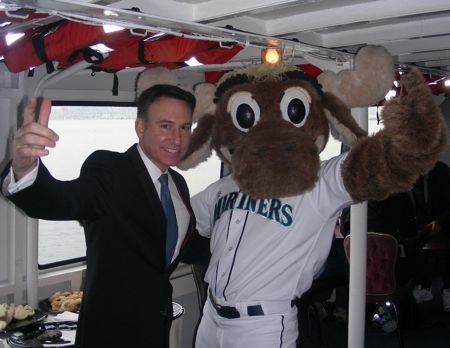 Moments ago, that's County Councilmember Dow Constantine and the Mariner Moose on board the Water Taxi with us and dozens of others – we're publishing this from the lower deck (too rainy to be out on the upper deck, darn), on our way downtown for a media briefing on the WT's recordsetting '08 season, which ends after the last run tonight. West Seattle Chamber of Commerce executive director Patti Mullen is on board too and she will be part of the media briefing as well. More later! 11:59 AM UPDATE: Media briefing's over. Here's a group shot of everybody who spoke: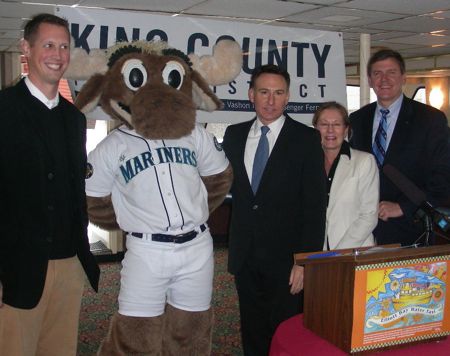 From left, Rob Johnson from the Transportation Choices Coalition; you know the next two; Patti Mullen from the WS Chamber; and Argosy Cruises CEO Kevin Clark, who paid tribute to the 10-year partnership his company has had with the Water Taxi program (first run, 5/23/98). The briefing, by the way, was on a bigger boat next to the Water Taxi's mooring, Argosy's Spirit of Seattle – the WT had to continue on its regular schedule. Councilmember Constantine, who spoke as chair of the King County Ferry District executive committee, said WT ridership has grown 70 percent in the past three years (almost 107K in 2005, almost 192K this year). It is scheduled to go year-round in 2010. Remember that hearing coming up Monday, as mentioned here; we'll add a WT update later today/tonight with some video from today's briefing – meantime, you can read the full, official news season-ender news release here – also added, a photo of The Moose at the Water Taxi wheel: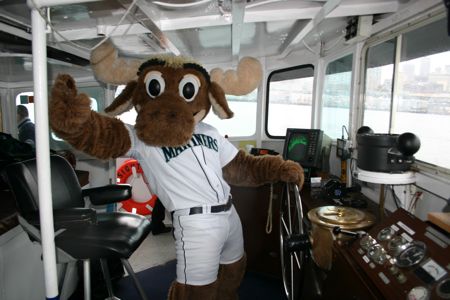 (photo courtesy King County Councilmember Dow Constantine's team)
Water Taxi wraps up season with ridership record

Mariner Moose celebrates with a ride on the final day of season's service

The Elliott Bay Water Taxi finished its first year funded by the King County Ferry District with record ridership numbers. The more than 181,000 passengers served represented a 13 percent increase in ridership over 2007.

"The numbers tell the story: People can't get enough of the Water Taxi," said Ferry District Executive Committee Chair Dow Constantine. "When the King County Ferry District moves to year-round service in 2010, the Water Taxi will become an even more important transportation link between West Seattle and downtown."

Water Taxi ridership has increased 70 percent in the past three years from 106,913 riders in 2005. Water Taxi ridership for 2006 and 2007 was 122,650 passengers and 161,331 passengers, respectively.

Constantine was joined at a Pier 55 celebratory event by representatives of local business and transportation organizations—plus the Mariner Moose, who wanted to remind baseball fans of the special evening Water Taxi runs before and after all Mariners home games. The service has been popular with fans, alleviating traffic congestion and parking issues in communities surrounding Safeco Field.

"Passenger ferries are an effective means of transportation, letting people leave their cars at home," said Rob Johnson, regional policy director for the Transportation Choices Coalition. "The Elliott Bay Water Taxi provides an important service by giving West Seattle commuters direct access to the downtown business district."

"The Water Taxi is very important to the West Seattle business community. It brings people to visit our many shops and business, while giving West Seattle residents easy access to thousands of downtown jobs," said Patti Mullen, president and CEO of the West Seattle Chamber of Commerce. "After ten years in service, the Water Taxi has become a fixture of life in West Seattle."

The King County Ferry District is a countywide special-purpose district formed by the King County Council in April 2007. The Ferry District assumed funding of the Elliott Bay Water Taxi at the start of the 2008 summer season. The Water Taxi is currently operated by Argosy Cruises under a contract with the Ferry District.