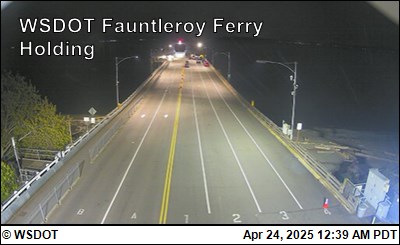 (Live WSF webcam photo from Fauntleroy dock)
As part of the process of fixing problems plaguing the Fauntleroy-Vashon-Southworth (aka "Triangle") ferry route, Washington State Ferries promised last month that it would put together a task force. Today, WSF has taken the next step – calling for volunteers:
WSF is now seeking volunteers for the Triangle Improvement Task Force. The task force is the citizen advisory group that will be charged with:

· examining the situation on the Fauntleroy/Vashon/Southworth ferry route
· recommending "quick wins" to improve service by summer 2017
· coming up with recommendations for the long term

The task force will begin meeting in January and will consist of nine volunteers, three each from the Fauntleroy, Vashon and Southworth communities. For more information on the process and to apply to be a task force member, please visit our volunteer application page. Applications for volunteers are due Dec. 27, 2016.