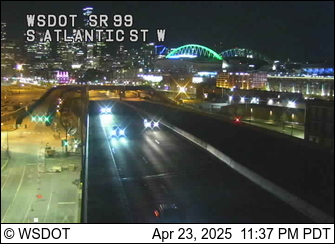 (WS bridge and Highway 99 views; more cams on the WSB Traffic page)
Thousands of West Seattle families are returning to (or starting) the school-year routine this morning. Even if you don't have a student (or school staffer!) in the household, the start of the school year means changes on the road, not just the presence of school buses (which, by the way, were apparently the reason for some helicopter activity between Highland Park/South Park earlier). First, the basics:
BACK TO SCHOOL: First day of classes for Seattle Public Schools and Highline Public Schools (immediately south of the city limits), and also for independent schools that didn't start up on Tuesday – including Explorer West Middle School, Tilden School, and Westside School (all WSB sponsors), Shorewood Christian, and others.
SCHOOL-RELATED CHANGES OF NOTE:
*Roxbury SW has two speed-camera zones, near Roxhill Elementary (30th/Roxbury) and Holy Family (20th/Roxbury) – tickets will be warnings for the first month, says the city, and then triple-digit fines
*Since Fairmount Park Elementary is reopening after seven years, that means a school zone on Fauntleroy Way, between Morgan Junction and The Triangle (map)
*The Boren Building in the 5900 block of Delridge Way is now home to TWO schools – K-5 STEM and, for the next two years, Arbor Heights Elementary (whose rebuild has begun), which means twice the dropoffs, buses, etc.
*Some bell times have changed – notably, Chief Sealth IHS in Westwood is starting later (8:40 am) and West Seattle HS in Admiral is starting earlier (7:50 am). Full list of SPS start times is here.
Anything we're missing? editor@westseattleblog.com – thanks!
P.S. In addition to the two Roxbury speed cameras, in case you're new in town, there is a pre-existing camera zone on Fauntleroy Way in the Gatewood Elementary vicinity, and the city has a "speed van" that MIGHT be in West Seattle at any time – it's often on 35th SW near Our Lady of Guadalupe.
OTHER TRANSPORTATION NOTES: Published here overnight – Metro's new West Seattle cut/change proposals. Also – SDOT's new director Scott Kubly visits West Seattle for tonight's Southwest District Council meeting.