August 27, 2014 at 6:07 am | In
West Seattle news
,
West Seattle traffic alerts
|
Comments Off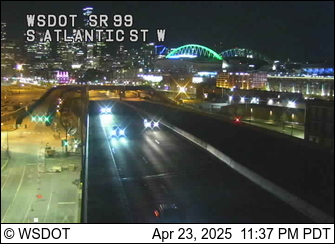 (WS bridge and Highway 99 views; more cams on the WSB Traffic page)
"Reopened" is the word of the day, so far. WSDOT confirms Highway 99 is now fully open again, including the rebuilt bridge north of the Battery Street Tunnel; also, the ramp from the eastbound West Seattle Bridge to southbound I-5 is open again after a deadly motorcycle crash overnight, and the bridge exit to northbound 99 reopened late last night, after an hours-long closure caused by a fuel spill. Another note for today: School buses will be out on practice runs. And if you travel through SODO – take note that the Mariners have a day game today (12:40 pm).
No Comments yet
Sorry, comment time is over.
All contents copyright 2005-2015, A Drink of Water and a Story Interactive. Here's how to contact us.
Header image by Nick Adams. ABSOLUTELY NO WSB PHOTO REUSE WITHOUT SITE OWNERS' PERMISSION.
Entries and comments feeds. ^Top^