Happy summer (as of 3:51 am)! We start our Saturday calendar-highlights list with a traffic reminder: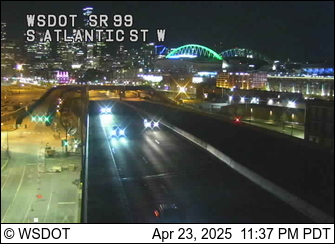 99/VIADUCT HALF-CLOSURE: Northbound 99 (left side of "live" cam view above) is closed from here to the Battery Street Tunnel, all weekend. WSDOT is realigning the lanes west of the stadium zone, as it did on the southbound side two weeks ago, and for part of today, the road will be in use for the Rock 'n' Roll Marathon/Half-Marathon (which has other closures around the city – see the full list here.) *added* P.S. We should mention the 520 bridge is closed too – here's the regional overview.
ALSO, AN AIRBORNE NOTE: Since we so often answer questions about unusual (and/or noisy) aircraft, we're mentioning something pointed out recently by Bob (thanks!) – the Wings of Freedom Tour is at the Museum of Flight this weekend with three classic types of warplane, so you might see/hear them overheard, especially if you're on the Boeing Field flight path in southern West Seattle.
Now, as for what's happening – we start with the spotlight event:
MORGAN JUNCTION COMMUNITY FESTIVAL: Today's the day! The live music starts around 10:15 am and ends around 7 pm, and inbetween, you'll find other entertainment – Bubbleman at 11:30! – plus activities like the Bark of Morgan dog parade/contests at 2 pm, food including Bite of Morgan samples and the festival-benefiting barbecue at West Seattle Thriftway (WSB sponsor), plus dozens of community groups/vendors waiting to meet/talk with you. We'll be covering the festival "live" from our booth (we're a co-sponsor) as always. Come on down to Morgan Junction and roam the festival sites around the California/Fauntleroy intersection.
Also happening today/tonight:
BIG RUMMAGE SALE, DAY 2: 8:30 am-4 pm, Shorewood Christian School's "Massive Parking Lot Sale" is happening in Arbor Heights. 100+ families have contributed items to the sale. (35th and Roxbury)
HIAWATHA PLAYFIELD WALKING TOUR: This isn't just any playfield – Hiawatha was the first in the city, and it is a historic Olmsted Park. See and hear about the history in a free two-hour walking tour with Friends of Seattle's Olmsted Parks, starting at 10 am. Details here. (Meet at Walnut/Forest)
BENEFIT CAR WASH: 10 am-4 pm at Les Schwab in The Triangle, the cheer squad for West Seattle Junior Football and Cheer is having a fundraising car wash. (Fauntleroy/Alaska)
CHAMPAGNE GALA BRUNCH AND ART AUCTION: 11 am at the Duwamish Tribe's Longhouse in West Seattle, with proceeds benefiting Duwamish Tribal Services. Details in our listing. (4705 W. Marginal Way SW)
WADING POOL SEASON BEGINS: Lincoln Park wading pool (central upper park, walk in from the central parking lot off Fauntleroy Way) is the first Seattle Parks-operated wading pool in West Seattle to open for the season, 11 am-8 pm today. Here's the full citywide schedule of dates and times. (8011 Fauntleroy Way SW)
FREE WORKSHOP FOR PET OWNERS: 11 am-1 pm at Muttley Crew Cuts in The Admiral District, check out a free workshop by ACCES with information about pet first aid and CPR, as explained here. (42nd/Admiral)
ALKI LIGHTHOUSE TOURS: The season continues for free weekend tours with the U.S. Coast Guard Auxiliary at Alki Point Lighthouse, 1-4 pm. (3200 Point Place)
LUCHADORES AT THE LIBRARY! Story time with lucha libre wrestlers at South Park Library, 2:30 pm. (8604 8th Avenue S.)
SOCCER TEAM ON NETWORK TV: As noted here earlier this week, the West Seattle Soccer Club's Valkyries will appear in a CBS show that is scheduled to air at 3:30 pm today on KIRO Channel 7.
FREE COMMUNITY BARBECUE: The three fitness studios at 3270 California SW (including WSB sponsor Equilibrium Fitness) are hosting a free barbecue – just bring yourself and your appetite, starting at 4 pm; details in our calendar listing.
SUMMER SOLSTICE FESTIVAL … at Twilight Gallery and Boutique, 4-10 pm (and continuing Sunday), with art, performance, food/drink, more. Details in our calendar listing. (4306 SW Alaska)
DUWAMISH ROWING CLUB DEDICATION: At 5 pm, West Seattleites welcome too (along with everyone interested) as the club dedicates its "newest racing 4+, honoring Robert L. McNeil … Join us as we celebrate at our boat house, with a great pot luck. Don't be shy, bring your favorite dish to share with us. We are a family oriented rowing club. We can be found at S. Elmgrove between 10th Ave S and 12th Ave S., South Park."
'PENCIL ME IN FOR KIDS' BENEFIT DINNER: 5:30 pm-8 pm at the West Seattle Eagles, delicious dinner for a good cause – PMIFK, which gets school supplies to kids who need them. Details in our calendar listing – you can bring the types of supplies described in the listing as well as donating the dinner price. (4426 California SW)
ROCK PAPER GARY: Acoustic/folk duo plays C & P Coffee Company (WSB sponsor), 7-9 pm. (5612 California SW)
SAY HI … live in-store at Easy Street Records in The Junction, celebrating the release of a new album, 7 pm, all ages, free. (California/Alaska)
CD RELEASE PARTY: Del Rey and Suzy Thompson have a new CD, and they're celebrating with a performance at historic Kenyon Hall, 7:30 pm. Details in our calendar listing. (7904 35th SW)
SOLSTICE SUNSET: As previewed here, you're invited to end the first day of summer by watching the sunset with Alice Enevoldsen at Solstice Park. Arrive by 8:45 and prepare to learn and enjoy. (7400 Fauntleroy Way SW, uphill past the tennis courts)
MORE NIGHTLIFE … and other events, on our calendar!