ROOM 22: Last August, Pizzeria 22 proprietor Cary Kemp announced an expansion next door, to add dining-room and event space. The expansion, dubbed Room 22, opens Saturday, he tells WSB:
Room 22 will provide an additional 50 seats to our restaurant, as well as one of West Seattle's largest private dining rooms for up to 50 guests. We will now be able to offer reservations for parties of 6 or more any time and will no longer have the space and wait issues that we have experienced in the past.
Saturday is also Pizzeria 22's third anniversary.
SPEAKING OF ANNIVERSARIES: In case you missed the Full Tilt Ice Cream update on our partner site White Center Now last weekend, the company founded in White Center by Justin Cline and Ann Magyar celebrated its sixth anniversary last Friday. We stopped in that night for a quick check-in, and found Justin, Ann, and son Moss on hand: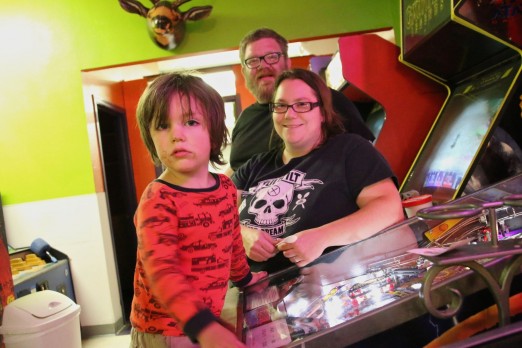 Two major updates as Full Tilt continues to grow – they'll soon launch an ice-cream truck (as compared to the cart/s they've had in recent years, including the one at last weekend's Morgan Junction Community Festival) that's expected to spend lots of time on Alki, and the number of grocery stores selling Full Tilt pints is about to double. They're in 60+ stores now and about to add ~60 more, going into Western Washington QFCs.
SPEAKING OF ICE CREAM: It'll be part of Top Pot Doughnuts' first West Seattle location. Back on Tuesday, we broke the news that Top Pot is moving into the vacant-since-built east side of 2758 Alki Avenue SW. Since then, we've had a chance to talk with Top Pot co-founder Mark Klebeck, and he had a few more details to share. First, the "fall" opening is vague because as always, it's a matter of how the city permit process goes, and they don't expect it'll be any sooner than the first day of fall (September 21st). Second, the hours will likely be along the lines of 6 am-9 pm, with adjustment based on how business goes. Third, one special feature – Snoqualmie Ice Cream makes a special "doughnut-inspired" ice cream for a few Top Pot locations, and this one will feature it. Why West Seattle? we asked. Klebeck said every time they've opened a new spot somewhere, they'd hear from upset West Seattleites saying "why not here?" They were looking for the right location and finally decided this was it.