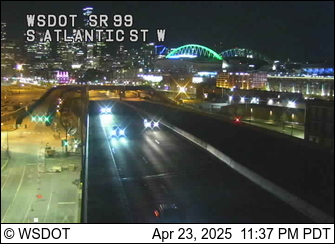 (WS Bridge and Highway 99 views; more cams on the WSB Traffic page)
Good morning! We start with the road-work alerts for today and beyond
ALKI PAVING PROJECT, THROUGH THE END OF THE WEEK: Finally got the details from SDOT about the Alki Avenue paving that continues through Friday.
Looking ahead:
*This weekend, Friday night 6/6 until Monday morning 6/9, southbound 99 will be closed between the Battery Street Tunnel and West Seattle Bridge to reconfigure lanes, as explained here; see the expected results here (along with the results of a similar northbound closure two weeks later).
*Saturday is the start date for Metro's next service change, detailed here. The only West Seattle route with changes is the 21, with a route change for several afternoon runs.