June 10, 2014 at 7:27 am | In
Transportation
,
West Seattle news
,
West Seattle traffic alerts
|
3 Comments
(FOR COVERAGE OF THE P.M. SOUTHBOUND HIGHWAY 99 CLOSURE, PLEASE GO HERE)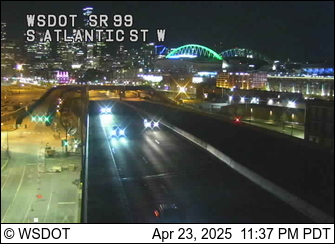 (WS Bridge and Highway 99 views; more cams on the WSB Traffic page)
So far this morning, the trouble appears to be outside the city – nothing in the way of your in-city commute.
In transportation news, Mike Lindblom at The Seattle Times (WSB partner) follows up on the County Council's showdown over putting later rounds of Metro cuts on hold. The 5-4 vote delaying or potentially canceling the second through fourth rounds of cuts drew County Executive Dow Constantine's first-ever veto almost immediately. Here's the story. (The deepest West Seattle cuts, deleting four routes, are in the fourth round, originally scheduled for September 2015.)
3 Comments
Curious as to why there was no mention of all the rework patching on our newly rebuilt roadway, W/S freeway east bound underneath 99 by many of our city workers ? on sat/sun as they had the right lane shut down ? anyone being held accountable for the terrible roadway rebuild job done ? what 2yrs old and how many issues with pavement lifting.

Comment by wetone — 11:01 am June 10, 2014 #

Thanks for the reminder, Wetone. It was not pre-announced, so we had no idea until a conversation on Twitter late Sunday (I tweeted a pic of the backup). I meant to follow up with SDOT yesterday, ran out of time, have the inquiry out to them now. I know they had mentioned plans to work on the pavement there – we have previously reported on the surface problem (that side is the old roadway with a new layer) – but 4 pm on a Sunday with major road closures elsewhere seems odd. – TR

From SDOT (and now we're on the SB 99 closure so I'm not going to get to dive any deeper into this):

Indeed our crews were on the Spokane Street Viaduct on Sunday, June 8. They worked from 5 a.m. to 11 p.m. in the center, eastbound lane to address issues remaining from viaduct's widening project. They focused on the eastbound direction because they anticipated lower traffic levels due to the state's work and closures nearby.

The notice of this work didn't make it to all the parties that should have received it. The season for work that is the most weather sensitive is just beginning, so we'll remain vigilant to keep you and West Seattle drivers informed.
Sorry, comment time is over.
All contents copyright 2005-2015, A Drink of Water and a Story Interactive. Here's how to contact us.
Header image by Nick Adams. ABSOLUTELY NO WSB PHOTO REUSE WITHOUT SITE OWNERS' PERMISSION.
Entries and comments feeds. ^Top^