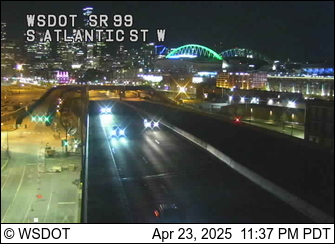 (WS Bridge and Highway 99 views; more cams on the WSB Traffic page)
No problems reported so far, but there's some rain around the region slowing traffic a bit.
NOTES: Remember that Metro's June "service change" took effect on Saturday, and that brought some afternoon changes to Route 21. Also re: Metro, today the County Council takes up potential changes to the service-cuts plan, as explained in this Seattle Times (WSB partner) report. … If you drive Highway 99, you'll notice the southbound lanes' new configuration south of the elevated section, the result of this past weekend's closure; a northbound closure is scheduled for the weekend after next. And if you have questions about 99 or other state projects, come to the West Seattle Transportation Coalition's meeting tomorrow (Tuesday, June 10th, 6:30 pm, Neighborhood House's High Point Center) to hear from state Transportation Secretary Lynn Peterson.
9:18 AM: If you're a late-morning commuter and use northbound I-5, emergency crews have been handling a crash in the Ship Canal Bridge/45th vicinity for about 20 minutes now, and it's closed a couple lanes.