May 28, 2014 at 7:38 am | In
West Seattle news
,
West Seattle traffic alerts
|
1 Comment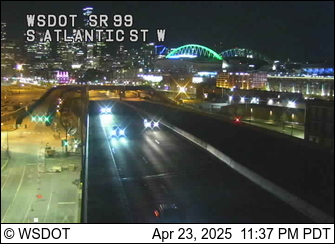 (WS Bridge and Highway 99 views; more cams on the WSB Traffic page)
Good morning! Slow going this morning, though no specific situation is blamed.
SPEED-CAMERA INSTALLATION: If you missed the story on Tuesday – the two school-zone speed cameras announced almost a year ago for Roxbury are being installed starting today. However, the city says they won't be activated until fall.
8:45 AM: Via scanner, there's word of a crash in the outside eastbound lane "midspan" on the high bridge.
9:07 AM: We just checked Roxbury for any sign of the camera-installation crews that the city said would be starting work today. Not seeing anyone yet.
1 Comment
Re the school cameras and lights: some of the lights cannot be seen until almost right up on them because of tree growth – like near Lafayette going north. The one down near Lincoln Park is on a curve as going south, so hard to see. Is there a list of times that the school zones are in effect in these areas? It seems sometimes they are on earlier or later than we would expect. In one zone today a car was riding my bumper wanting me to go over the 20 mph. So frustrating, I finally pulled over and they got on another car's bumper.

Comment by Bree — 5:54 pm May 28, 2014 #
Sorry, comment time is over.
All contents copyright 2005-2015, A Drink of Water and a Story Interactive. Here's how to contact us.
Header image by Nick Adams. ABSOLUTELY NO WSB PHOTO REUSE WITHOUT SITE OWNERS' PERMISSION.
Entries and comments feeds. ^Top^