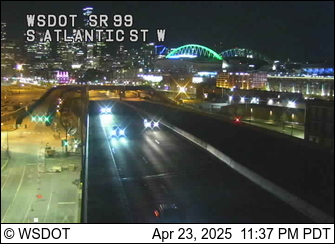 (WS Bridge and Highway 99 views; more cams on the WSB Traffic page)
"Uneventful" commute so far, as WSDOT's Twitter account put it.
ROAD WORK: SDOT confirms that crews are expected back at Charlestown hill (west of California) today, between 46th and 47th.
7:31 AM: Crash reported (via the SFD 911 log) at Olson/Myers – no word how/whether it's affecting traffic on the hill to/from 509.
8:08 AM: That call is closed on the 911 log and we haven't heard anything further.
8:53 AM: SPD is/was back on bus-lane enforcement today, according to this Twitter exchange.