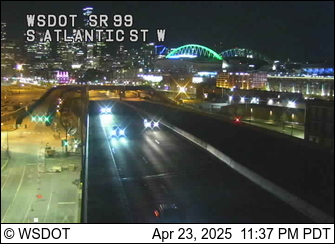 (WS Bridge and Highway 99 views; more cams on the WSB Traffic page)
As we start today's traffic watch, some news notes:
BUYING BUS SERVICE? Following up on King County Executive Dow Constantine's Metro announcements Monday, Mayor Ed Murray is set to go public with his plan at 9 this morning. And then tonight at 6, it's the closest public meeting a County Council will have on the cuts that are in the works all the while. And at 6:30 here in West Seattle, the mayor's transportation adviser is the guest at the next West Seattle Transportation Coalition meeting.
ROAD WORK AHEAD: Announced Monday by SDOT – traction-improvement ahead for three local stretches of road, starting this weekend.