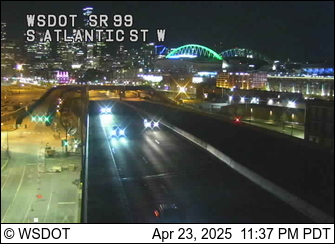 (WS Bridge and Highway 99 views; more cams on the WSB Traffic page)
6:25 AM: The road/trail/etc. watch is on for Thursday!
6:48 AM: The big problem right now is on southbound I-5 south of I-90, so if you are headed this way from points north, we should mention it. An old expansion joint has popped up and is forcing the closure of three lanes. WSDOT is tweeting updates here, such as:
The maintenance truck pushed the expansion joint back down. pic.twitter.com/qSddDo2LOq

— WSDOT Traffic (@wsdot_traffic) May 29, 2014
6:53 AM: WSDOT estimates repairs to take another half-hour or so. Again, that's on the southbound side, but just FYI.
9:07 AM: Those lanes haven't reopened yet, by the way. And other southbound routes like 99 are reported to be jammed.
11:17 AM: Open now! Adding photos here from West Seattle photographer/pilot Long B. Nguyen, from before repairs were completed – above, the traffic jam; below, the work zone:
By the way, more expansion-joint work – scheduled, this time! – is in the works for I-5, the first weekend in June. It's part of the story we published last night about upcoming highway projects.
11:35 AM: By the way, Vice President Joe Biden is in town, in case you bump into a motorcade. Private fundraiser:
Saw @VP #Veep #motorcade on 1st Ave S. #seattle http://t.co/ACUZeLgtx9 pic.twitter.com/rMJzRedN8Q

— M Kanoli (@MKanoli) May 29, 2014
His wife Dr. Jill Biden is also in Seattle, at a business-related event at Seattle Center, along with former West Seattleite, now Interior Secretary Sally Jewell.