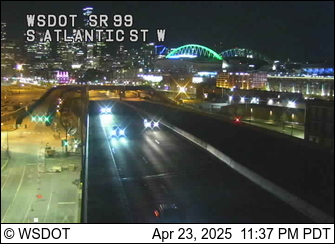 (WS Bridge and Highway 99 views; more cams on the WSB Traffic page)
Good morning! Quiet on the roads here and beyond so far.
TRAFFIC NOTES: No major West Seattle road work announced for this week. SODO/Pioneer Square drivers/riders, take note that the Mariners are home all week (7:10 pm game tonight).
7:18 AM – 'LOW BRIDGE' ALERT: Via scanner – what the dispatcher described as a "disabled tractor-trailer" on the westbound low bridge.
7:44 AM: That's clear now, according to SDOT.