May 19, 2014 at 7:31 am | In
West Seattle news
,
West Seattle traffic alerts
|
2 Comments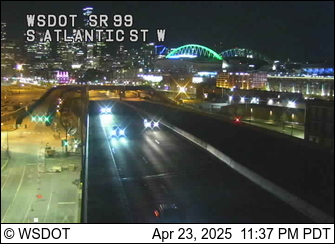 (WS Bridge and Highway 99 views; more cams on the WSB Traffic page)
An alert if you drive 1st Avenue South to get downtown – SDOT says signals are out in the stadium area for maintenance, so that's going to slow things down:
Update: Signals are now turned off (~30 min) just north of 1st Ave S & Royal Broughham. Expect delays. pic.twitter.com/p4radIqkW1

— seattledot (@seattledot) May 19, 2014
SDOT says two signals on Alaskan Way are involved too, so don't detour that way.
7:46 AM: West Seattle neighborhood traffic alert – though SDOT's announcement of dates for traction-improvement work on local roads didn't have Charlestown hill west of California SW scheduled until later this week, area resident Paula says the closure is being set up right now.
7:54 AM: Update from SDOT on those downtown signals:
Good news: -1st & Railroad: back on -1st & King: soon Bad news: -3 signals on Alaskan Way will be down ALL DAY (Yesler, Main, Columbia)

— seattledot (@seattledot) May 19, 2014
2 Comments
Do you need any more convincing that SDOT has no clue about traffic management than their turning off traffic signals during rush hour?

Comment by KT — 7:51 am May 19, 2014 #

I don't know that this was an optional situation. The area was roughly parallel with where the motorcycle rider was killed on 99 so I'm wondering if there was some connection (just speculation on my part). Anyway, the 1st signals are back on, but Alaskan Way has three that will be out all day; adding to the story. – TR
Sorry, comment time is over.
All contents copyright 2005-2015, A Drink of Water and a Story Interactive. Here's how to contact us.
Header image by Nick Adams. ABSOLUTELY NO WSB PHOTO REUSE WITHOUT SITE OWNERS' PERMISSION.
Entries and comments feeds. ^Top^