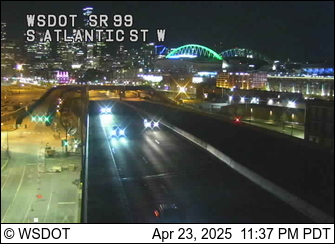 (WS Bridge and Highway 99 views; more cams on the WSB Traffic page)
An alert if you drive 1st Avenue South to get downtown – SDOT says signals are out in the stadium area for maintenance, so that's going to slow things down:
Update: Signals are now turned off (~30 min) just north of 1st Ave S & Royal Broughham. Expect delays. pic.twitter.com/p4radIqkW1

— seattledot (@seattledot) May 19, 2014
SDOT says two signals on Alaskan Way are involved too, so don't detour that way.
7:46 AM: West Seattle neighborhood traffic alert – though SDOT's announcement of dates for traction-improvement work on local roads didn't have Charlestown hill west of California SW scheduled until later this week, area resident Paula says the closure is being set up right now.
7:54 AM: Update from SDOT on those downtown signals:
Good news: -1st & Railroad: back on -1st & King: soon Bad news: -3 signals on Alaskan Way will be down ALL DAY (Yesler, Main, Columbia)

— seattledot (@seattledot) May 19, 2014