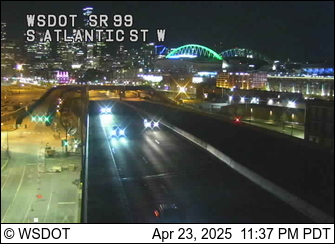 (WS Bridge and Highway 99 views; more cams on the WSB Traffic page)
7:41 AM: All's well (relatively) so far on the major routes, as we head into the heart of the morning commute.
WEEKEND PREVIEW: Only major closure in the region this weekend is the 520 bridge. Around the city, some big events might affect traffic – they're in the SDOT weekend-alert roundup.
8:44 AM: Matt reports traffic-signal trouble at Delridge/Kenyon. We're headed that way for a look. (Update: OK by the time we arrived.)